Alice in Wonderland is one of the most iconic stories ever written. It's been told many times over, including most recently in Tim Burton's live action film starring Johnny Depp.
But what about a real life Alice in Wonderland wedding?
If you're planning on having a wedding themed around Alice in Wonderland, we've got some great inspiration for you.
Here are a few steal-worthy wedding themes that will help you bring out the whimsical side of the bride and groom without breaking the bank.
Decor
The trend of DIY weddings is taking over on sites such as Pinterest. Wedding planning sites are full of ideas for how to make your wedding unique.
From creating personalized centerpieces to adding whimsical touches, there are plenty of ways to make your wedding feel special. Here are some tips for making your wedding venue look extra romantic.
1. Vintage Furnishings
Vintage furniture is timeless and elegant. You don't have to spend a fortune to find pieces you love. Look for items online, at thrift stores and flea markets.
If you want something specific, Etsy is a great resource for finding vintage finds.
2. Ornate Tables
If you're looking for a classic table setting, try mixing it up with a few ornate pieces. For example, use a small vase filled with seasonal flowers, or add a decorative centerpiece.
Or, opt for a simple white linen tablecloth and place a large floral arrangement on each plate. A few simple things can make it look truly "Mad Hatter". 
3. Gilded Frames
Gilding adds warmth and elegance to photos and art. To achieve a similar effect, use gold paint pens to write out names on plain photo frames.
Alternatively, apply strips of gold foil to picture frames and hang them in a prominent spot alongside some Alice themed memorabilia. 
Afternoon tea 
The question about whether you should do an afternoon tea or a cocktail hour for your wedding reception is simple enough:
Do you want guests to linger over food and drinks or do you prefer to keep things moving?
If you're looking to fully embrace the Alice In Wonderland theme, it's a lovely idea to offer an afternoon tea, which typically includes finger sandwiches, scones, cakes and tea reminiscent of the Mad Hatters Tea Party in the story. 
But if you'd rather keep things casual, consider serving a buffet style meal and offering cocktails, wine and beer. 
Flower alter 
A simple wedding arch can become a lovely little floral arrangement if you cover it with large, beautiful blooms.
It's easy enough to achieve this even for beginners and requires no special skills or tools.
You just need some basic materials like wood, nails, screws, glue, string and flowers. And of course don't forget to revisit the Alice In Wonderland films for a fully authentic experience. 
To make a flower alter first, choose a sturdy wooden frame and measure how long you want your arch to be. Cut out the shape and nail it onto the wall.
Next, take the measurements of the arch again and cut out the same shape from cardboard. Then, put the cardboard piece over the wooden one and trace around it. 
Use a pencil to draw lines along the edges of the traced shapes and cut them out. Remove the cardboard pieces and paint both sides of each board with white primer.
Let dry completely. Now, apply several coats of varnish on the boards and let dry. Finally, place the flowers inside the arch, add some greenery and hang it up where everyone can admire it.
Maze
There are some pretty creative ideas for weddings but I say mazes are probably the most unique idea out there.
These days, you don't even need to make your own maze — there are plenty of vendors out there ready to help you out with that part.
One of the favorites is called Maserati Maze, and they offer three different kinds of wedding mazes. 
For those looking for something elaborate, they offer "the ultimate wedding experience," which includes everything from a custom design to a live DJ and a full bar.
If you want something simpler, they also offer a "wonderful wedding package" that includes a pre-designed maze and a few other goodies.
There's no price listed for any of their packages, but they do offer free consultations and samples to give you a better sense of how things work.
This is a super quirky addition to an Alice themed wedding that guests will love. 
Blue Bridesmaid Dresses
The color blue is synonymous with weddings and the Alice in Wonderland story.
If you're looking for a way to give your wedding a little extra sparkle, consider asking your bridesmaid to wear a shade of blue that compliments her skin tone.
Blue is a great choice because it brings out the best in complexion and sticks closely to the theme. 
Pocket Watch
Pocket watches are a great addition for the male members of the wedding party, it reminds guests of the "always late" rabbit in the Alice story.
In addition, giving your groom a pocket watch is one way to ensure he doesn't miss his wedding.
If you're planning an exchange ceremony, it could also help him remember what day it is, just in case he forgets! Stranger things have happened!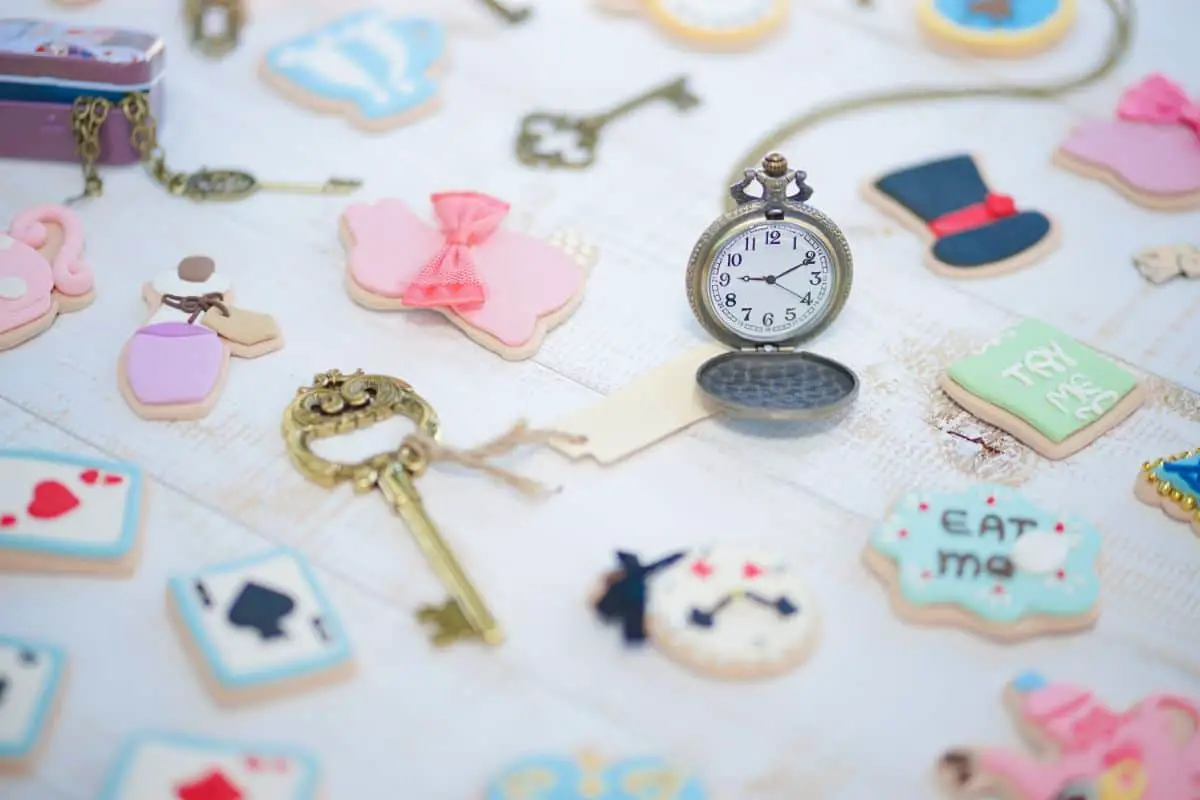 A pocket watch is a small wristwatch with a leather band, usually worn inside the jacket. You can even engrave them with sentimental messages, such as "I love you." as a personal touch. 
Pocket watches come in different styles, including gold, silver, stainless steel, and even wood. You can find pocket watches online for $10 to $40.
Playing Card Invitations
Another way to keep on the Alice theme is to consider making your invite a set of playing cards.
They're simple enough that anyone could draw up some fun variations, and they'll help your guests understand your wedding theme before they even arrive.
Teacups
Tea cups and teapots are a pretty big part of the Mad Hatter's event, so be sure you have plenty on hand.
You can use them as centerpiece vessels or to serve drinks (who says they can't be used for tea?). They're perfect for weddings because they look beautiful and don't take up much space.
Croquet
The Queen of Hearts loves her croquet games – especially when she gets to use her favorite mallet.
But if you don't know how to play, it might take some practice to learn.
Croquet is a sport that originated in England, where players hit a ball into a net using a special wooden stick called a mallet and plays a big part in the Alice In Wonderland story. 
Players stand about 15 feet apart, holding their sticks parallel to the ground.
Each player hits his or her ball toward the opponent's goal, trying to score points by hitting the ball closer to the center.
You can easily set up a croquet pitch indoors or out, depending on weather conditions. If you're hosting a party, you'll want to make sure there are plenty of balls available so everyone gets a chance to play.
To keep costs down you can buy a portable croquet set online. Or, if you live near a park, you can rent one from a local sports store.
A good rule of thumb is to have three times as many balls as people playing.
Quirky Tables 
A table setting is often the final touch to a meal, especially when entertaining guests. But it doesn't have to be boring — you just need some fun, quirky touches to make it memorable.
Here are some ideas for creating a whimsical look without breaking the bank.
Start with the basics. Start with a 12-inch square cake plate, a small punch bowl, a large serving platter and a few decorative plates. You'll want to use a mix of colors and patterns.
For example, you could use white and turquoise dishes for the main course, red and green for dessert.
Next, add some brightly colored napkins and place mats, and don't forget about table runners. Add a few centerpieces, such as oversized flowers or even balloons.
And don't forget about candles. They really do set the mood.
Finally, finish off the table with a beautiful centerpiece.
Try placing a mirror over the table, or hang a mirror above the table itself. This way, you can see yourself while dining and add some "crazy" to the setting in keeping the "Mad Hatter" party. 
Tarts 
Alice in Wonderland themed weddings are becoming increasingly popular. If you want to go down this route, it's important to remember that tarts are a very important part of the story.
They're used to convey information about the characters, such as whether someone is good or evil, as well as how much they love each other. 
So what do you do if you want to serve tarts? Well, you could just use your imagination. For example, you could describe the tart as being like a raspberry pie without actually having a pie.
Or you could simply say that it's a special treat. Either way, it'll add a fun quirky spin to the wedding. 
Conclusion 
An Alice in Wonderland themed wedding is an excellent choice for couples who want to create a unique event. It's also a great option for those who want to celebrate their love in a magical way.
The best thing about these events is that they're easy to plan and execute. All you need to do is choose the right theme and then follow through with all the details.

Latest posts by Lisa Plaitt
(see all)