So your big day is coming up. You have been saving for months or even years and now finally you have enough to pay for the day of your dreams.
Unfortunately, the wedding industry is not cheap and everything costs an arm and a leg.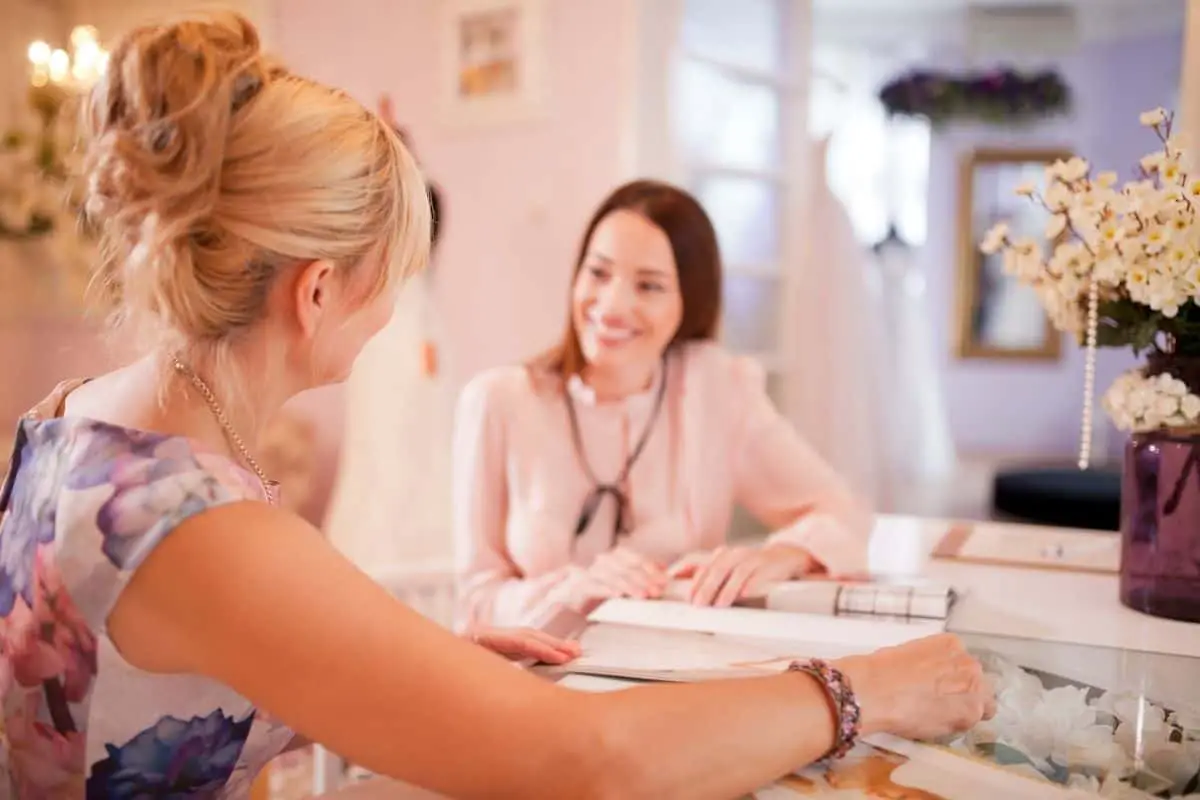 Even hiring tables and chairs for you and your guests is a pricey endeavor and is likely to leave you significantly poorer than you were before.
The question is, just how much money are you looking at spending? Is every kind of table and chair the same price?
Well, in this article we are going to take a deeper look into this topic. We are going to look at the most frequently picked chairs and tables that are used at weddings and of course delve into the general pricing if someone were to rent.
On top of that, we are going to go over some hints and tips you can draw upon when you are hunting for tables and chairs for your special day. 
So, without further ado, let us get started!
Why is Renting Tables and Chairs for Your Wedding a Good Thing?
If you are reading this article, then you are most likely trying to decide if it is worth renting or buying chairs and tables for your up-and-coming wedding.
Well, unless you are planning on using all those tables and chairs again it is most likely worth renting instead of buying. But, if you are on the fence then make sure to consider the following:
It can Save Money
In the long run, it can really save you money and space to rent instead of buy. This is especially true if you are intending to use the tables and chairs for just one event and have no further plans for them.
Purchasing tables and chairs is much more expensive than renting and once you have them you will still need to find a place to store them until they are needed again. 
The Company Usually Delivers and Sets Up
If you rent tables and chairs for your wedding, depending on the company, usually the company you are renting from will deliver the chairs and tables.
On top of that, they usually set them up for you as well. This will save you both time, effort, and money.
After all, on your wedding day, the last thing you want to do is rent a van or get a family member or friend to help move a ton of chairs and tables to a location and once they are there you will still need to set them up.
Take it from us, the best option here is to rent and get a delivery option. It will save you a headache and will allow you to focus on the festivities of your special day. 
Versatile Numbers
If you rent tables and chairs for your wedding there are usually some pretty good deals which means you will get the perfect amount of chairs no matter how big or small your event is.
This usually means that you will save money as you will get the right amount of tables and chairs and perhaps even get a deal that knocks down the price. 
What Kinds Of Wedding Chairs Are There?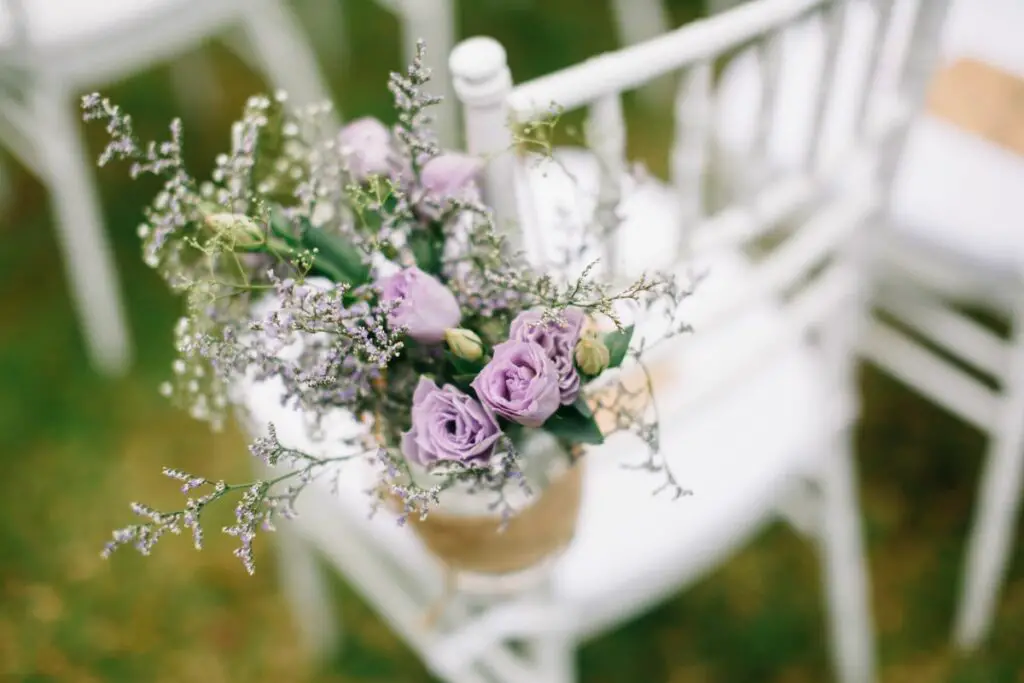 There are actually a bunch of different kinds of chairs out there. They are made from different materials and may have a look, feel or design that suits your wedding is completely out of the question.
On top of the aesthetic look and feel of these different chairs. There is certainly a difference in price depending on what you get.
So, in this section, we are going to take a look at these different chairs so that you can get a better idea of what they are and how expensive or inexpensive they might be.
Please take note that this is only an estimation and the pricing of chairs may vary depending on where you live. 
Foldable Plastic or Metal Chairs
If your wedding is taking place in an area where permanent seating is not an option like beach or garden weddings then foldable plastic or metal chairs is a good option.
But they are not only useful for outdoor events. In fact, they are quite versatile and are suitable for both indoor and outdoor events of almost any description.
Festivals, business meetings, sporting events, funerals, birthdays, weddings, graduations, the list could go on. 
These chairs are most commonly made out of plastic which is the cheaper option if you want to hire chairs for a wedding. The type of plastic that is used is normally quite durable and has a durable frame so you do not have to worry about it breaking.
Plastic folding chairs are usually very comfortable and can be used for long periods of time without feeling the discomfort of a hard chair on your rear end.
Best of all, just because these chairs are one of the more budget-friendly options does not mean that you have to settle for ugly plastic chairs.
There are a ton of ways you can decorate these chairs to make them look perfect for your wedding. For example, you can use tulle to make bows or you can let this fabric flow down the back of the chair.
If you are looking at renting chairs like this then you expect the cost to vary but as an estimate, we have usually seen them go for about one or two dollars per chair.
Wood or Resin Chairs
If you are interested in resin or wooden chairs you can expect them to have arched backs with padded seating. They are generally extremely comfortable and can be used for the ceremony and reception if you so choose.
Best of all they are often quite light and can be moved to wherever you need them. If you are looking for a chair that is elegant, durable, and not prone to breakage then you should certainly consider getting a chair that is made from natural wood grain. 
Resin and wooden chairs are quite easy to decorate and can be made to look absolutely stunning if you get the right stuff. For example, you could use flowers, covers, ribbons, lace, or even pearls to give these chairs an elegant and beautiful look. 
If you are interested in these hairs you can expect to pay a little more than the plastic and metal chairs. These chairs usually cost between two and three and a half dollars per chair.
Bamboo Chairs
When it comes to weddings, bamboo chairs are one of the most popular options. They come in a variety of colors, neutral colors, metallic colors, or even just leaving them with their natural woody coloring. Bamboo chairs are mostly used in more formal or traditional weddings.
This is because bamboo chairs usually have a natural beauty and are quite elegant. You can happily leave them bare or you can use a cover, ribbon, or any number of fantastic chair decorations. 
These types of chairs are usually between five and a half and seven dollars per chair.
Banquet or Bistro Chairs with Covers
This type of chair is perfect for weddings. This is because they are able to be easily stacked and folded, on top of that, they have no armrests.
They are ideal for weddings, banquets, or funerals. These banquet chairs can easily be found in many restaurants, hotels, or even country clubs so they should not be difficult to track down.
They can be hired at various places and have a variety of dimensions which means that they will be able to suit a variety of tastes.
One thing that you need to remember with these chairs is that you have enough room for them at your venue. Because of this, it is essential that you take measurements in order to make certain that they are going to work well in the space and with the layout you have. 
Bistro or banquet chairs can be made to look absolutely lovely especially if you have the right chair covers or other decorations. 
They can usually be rented out for between four and five dollars per chair. On top of that, you will be looking at paying one and a half dollars to two dollars per cover if you would like to rent those as well. 
Foldable Plastic Tiffany or Silver and Gold Chiavari Chairs
Tiffany chairs are most often used for fancy weddings or special celebrations. They tend not to have arms and will have a seat that has small frames with a seat that tapers in the back.
If your wedding is going to be an elegant affair and you have a larger wedding planned then Tiffany chairs are the ideal choice for you. 
If you have the budget, then getting these chairs for your wedding can really transform your layout and make it all look stunning. In fact, many brides these days opt for this kind of chair. 
If you are interested in Tiffany chairs then you can expect to pay anywhere between eight and ten dollars per chair. Please take note that this is only an estimation and the pricing of your foldable plastic Tiffany chairs may vary depending on where you live. 
What Kinds of Wedding Tables are there?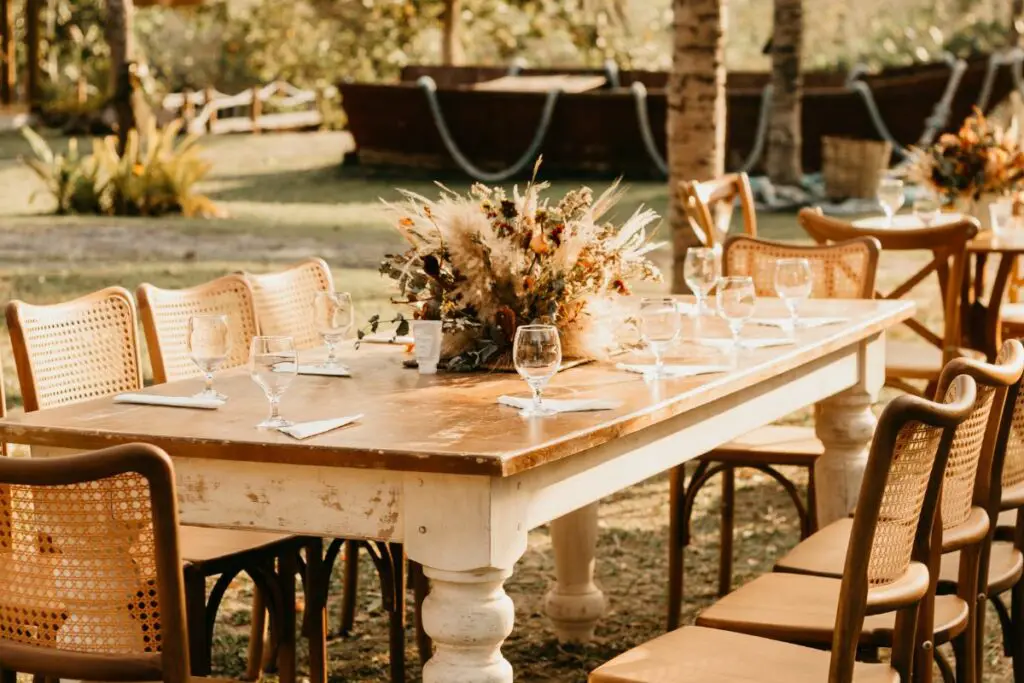 There are fewer types of tables out there that are suitable for weddings. However, it is important to consider the look you want and how many people you are planning on seating at your tables.
So, in this section, we are going to take a deeper look into what kinds of tables we recommend for weddings and how much you can expect to pay for them. Please take note that this is only an estimation and the pricing of tables may vary depending on where you live. 
Six Foot Rectangular Table
If you want a table that is going to make your wedding look super elegant then you may want to consider rectangular tables. Also known as banquet tables, if they are sex feet long they can easily seat between eight and ten guests per table.
This type of table is perfect if you want a celebration that really gets people together. We suggest that your centerpiece is not made too big with these tables as it can easily obscure the view you might have of the other guests.
On top of being able to seat large groups of people, these tables can even link them all together to make a closer atmosphere for smaller, more intimate weddings.
If you want to take your decoration to the next level you can even use table coverings that will suit the theme you have chosen for your wedding. 
If you like these tables you can expect to pay between eight and ten dollars per table. 
Five Foot Round Table
Five-foot round tables are also extremely popular to rent for weddings. Tables of this size and shape can usually seat about eight people comfortably. They really add something to your layout and can make it look absolutely stunning. 
These tables are most often used for weddings or conference centers and can be beautifully decorated with tablecloths to make them suit the overall look and feel of your wedding.
Round tables are quite versatile and will usually stand up to any hospitality event you have in mind. On top of that three are a ton of companies that rent them out. 
If you like the idea of having five-foot round tables at your wedding you can expect to pay somewhere between nine and eleven dollars per chair. 
Are There Any Hidden Additional Fees? 
We all know that weddings can be an expensive business and the last thing we want is to have some kind of hidden additional fee that we did not see coming.
So, in this section, we are going to talk about the main additional fees you could end up paying if you rent chairs or tables. 
Delivery and Set-up 
The main area you might see yourself spending more money than you think will be in chair delivery and set-up. It can be super easy to forget that there are extra charges that may be in place which you were not aware of or forgot about.
Many companies will charge you fifty percent of the total hiring fee upfront. Because of this, it is essential to make sure you have that upfront money for the deposit. 
Things to Keep in Mind when Renting Tables and Chairs
Now that we have gone over the general pricing of various chairs and tables as well as any hidden costs you might expect to see. We can now go over a few hints and tips that could really help you out when you are trying to rent out tables and chairs. 
Get a Few Quotes
When you are looking at renting chairs and tables it is smart to get more than one quote from various companies.
There are literally hundreds of companies all over the country and each one will have different deals and prices on offer. That is why it is important that you take your time and get quotes from a variety of different companies. 
Always do your research. You never know what stock different companies might have on offer or if they have what you are looking for free for the big day.
The last thing you want to do is sign with one company, pay your deposit and then find out that there was a cheaper option. 
We recommend that you take a look at least three rental companies. This should give you enough information and a wider pool of prices and chairs or tables that are available.
Consider Your Theme
The theme of your wedding can be something that makes or breaks your day and having the correct chairs for the look and feel you are going for will be important.
So, make sure that you have chosen chairs and tables that fit the theme and the setting of your wedding. 
Remember to Think About Transport Costs
When you are signing the papers for your rented tables and chairs make sure that you read the agreement very carefully.
Those documents will detail whether there will be any transport costs or any other costs that might be in place. This may include breakage costs or set-up costs. 
What if You Do Not Want to Rent Chairs and Tables?
If you are on the fence about renting tables and chairs for your wedding you may want to consider getting a venue that already has tables and chairs or you may want to think about who you might know that already has tables and chairs. 
Final Thoughts
We hope that you enjoyed reading our article and learning everything you need to know (see also: Planning An Elopement In Vegas: Everything You Need To Know)about the cost of renting tables and chairs for your wedding. Have a fantastic day and we hope to see you next time. 

Latest posts by Jodie Messines
(see all)