Getting a welcome bag makes you feel seen and valued. Maybe you traveled a long way for the wedding, or maybe it's a special theme.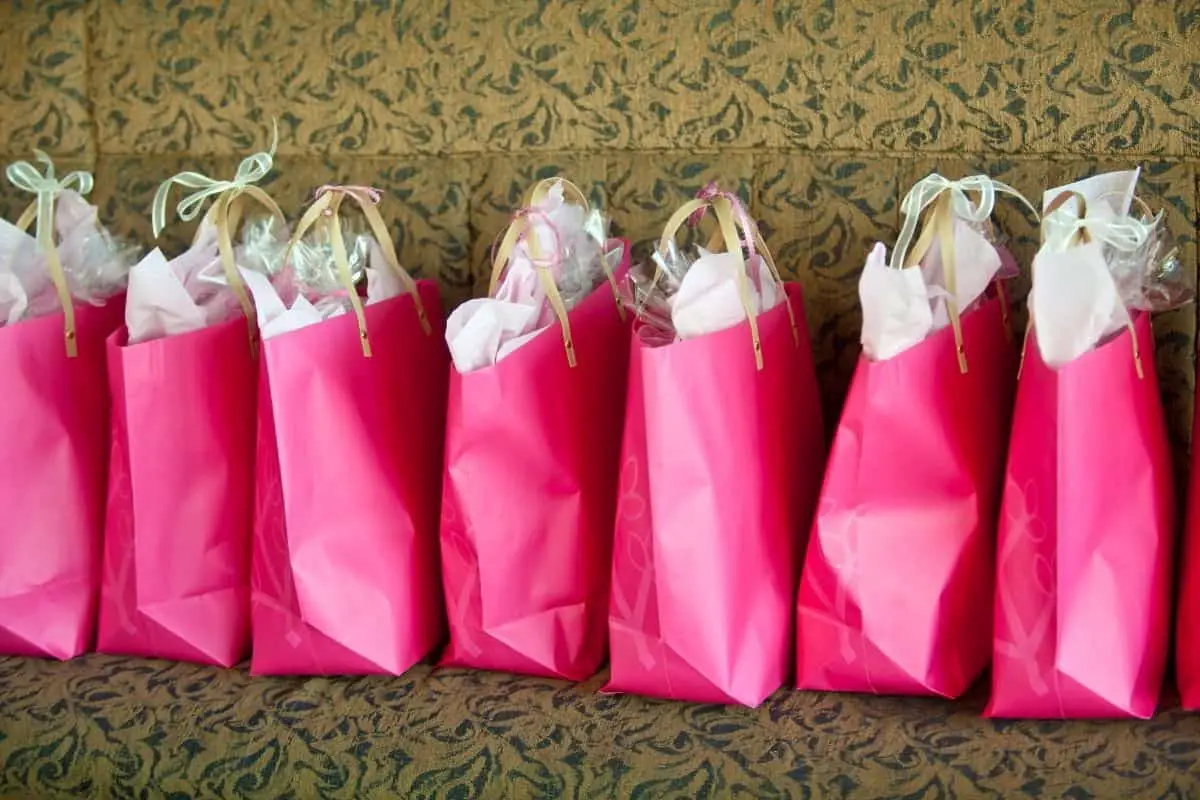 Either way, if you've ever gone to a wedding and received a welcome bag, it probably meant a lot to you. Now, why not return the favor?
Your wedding is coming up, the venue is somewhere fun, and you want to make welcome bags. We don't blame you!
The question is, how do you do it? What should you include? There are a lot of questions you're asking yourself, and seemingly not enough time. 
Don't worry, we're here to help. If you want to make a welcome goodie bag for all the special people in your life – read on!
We're going to be going through everything you need to know, and how to keep costs down. 
What Is A Welcome Bag?
A welcome bag is simply a little (or big) bag of goodies that your wedding guests receive. It can be full of candies, or useful items for the location!
It all depends on where you are, and what you think they will need. These bags are usually filled with a bunch of little fun things, because everyone loves that, right? 
What Should Destination Wedding Welcome Bags Contain?
Candies, toys, anything you can think of! The contents will depend on where you are and what the theme is!
If you're going to a beach wedding, you might see cute little beach-related goodies in there. There might also be travel-size items like lip balm or bug spray, because chances are someone forgot theirs! 
You're the only one in charge of your welcome bag, and you can put whatever you like in them. There are no rules to follow.
However, try to stick to things that are useful, funny, or convenient in some way. Your guests will be grateful to you.
It's always nice to personalize a welcome bag in some way, too. If you want to do that, we will be going through how you might do that a little later on. 
If the wedding is somewhere like Jamaica, why not get mini bottles of rum when you land? Mexico is known for the tequila, so get tiny bottles of that!
You can have a lot of fun looking for mini items to put into your welcome bags, and use everything to your advantage.
Get some local favorites and get them in those bags so that everyone can enjoy them.
Some popular welcome bag idea includes:
Waterproof room keyholders
Koozies
Luggage tags
Water bottles
Shot glasses
Sunglasses
Do not disturb signs
Travel cups
Some Handy Things For Destination Wedding Guests To Have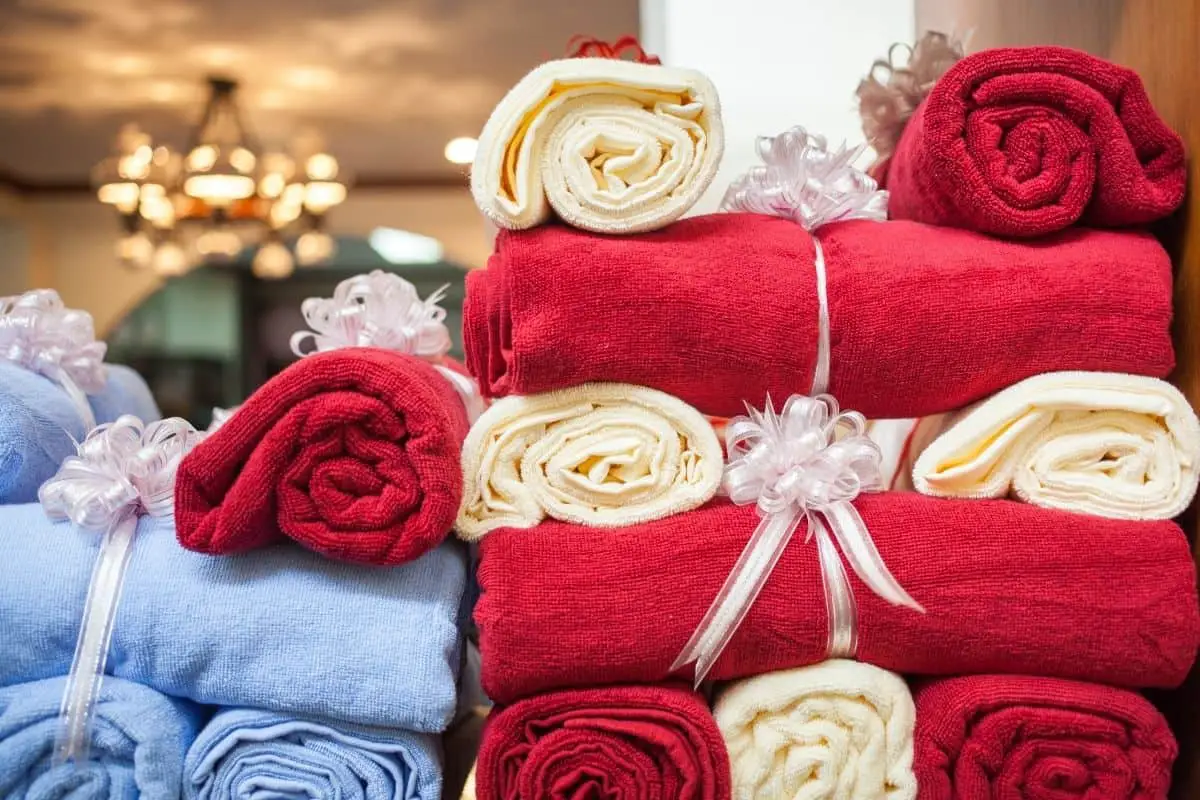 As always, the usefulness of something depends on where you are for the wedding. However, there are some great things that you might want to include for a number of scenarios.
Let's take a look at some great welcome bag fillers you might want to include when you're putting your own creations together.
Mini First-Aid
Giving your guests the gift of necessities is always appreciated. Someone will have forgotten their pain killers for the hangover they're inevitably going to have.
If you're in Mexico, there's a good chance someone forgot to get sunscreen and lip balm.
At least if you give your beloved guests a few things you know they are going to need, it shows how much you really care, right?
Hand sanitizer
Eye masks
Antacid
Mini sunscreen
Pain killer
Lip balm
Aloe vera
Bug repellent
Tissue packets
Stain remover
Everyone Loves Treats
It doesn't matter how old your guests are, we can guarantee that at least 90% of them love snacks.
These welcome bags are the best (if we do say so ourselves), especially after a long flight.
There's nothing better than stepping off the plane, driving to the hotel, and being welcomed with some snacks to make you feel alive again. 
If you know of anyone who has specific dietary requirements or allergies, why not make a few special bags catering to those needs?
If you aren't sure if anyone is allergic to anyone, stock up on a couple of snacks you can swap out for them.
It would really suck for someone allergic to peanuts to get a peanut granola bar and nothing else is available. 
Be mindful, and cater for everyone! They made it to your wedding, after all. 
Granola bars
Trail mix
Chips
Crackers
Candies 
Pretzels 
Cookies
Popcorn
Nuts
Beach Toys
This one can be a little more difficult, because beach toys tend to take up a lot more space. Not only that, but they can get expensive really fast.
Check out sites like Amazon and get some packs of toys. Alternatively, stop by your local dollar store and get some floaties and other items for all your guests. They would appreciate it. 
Flip flops
Beach balls
Floaties
Beach towels
Drink floaties
Local Souvenirs
Filling your welcome bags with one or two local souvenirs when you land is always a nice idea. Can you even say that you went to Mexico if you don't at least have a keychain or magnet to prove it?
Save your guests the time of going to the souvenir shop, and throw a few into everyone's welcome bag. It'll give them something to remember the day by!
Mini rum bottles
Mini tequila bottles
Keychains
Magnets
Maracas
Postcards
Bottle openers
Hats
Personalized Tote Bags
Tote bags are always great options for gift bags. Not only can you put stuff inside (duh), but the bag can be part of the gift, too!
A canvas bag will last a long time, and can be very versatile. If you're getting married on a beach, or near one, you can bet those tote bags will be put to use.
It's nice to have a gift that can be used over and over again, and something that you can look at and remember those amazing days.
If you want to be a little extra, personalize those bags! This would cost more, of course, so no pressure.
Get bags that have the location of the wedding printed on them, or even get guests' names printed on them! It would be unforgettable. 
Packing Destination Wedding Welcome Bags
Packing your welcome bags can be challenging, but try not to worry about it too much. Chances are, you will want to get everything as soon as possible so that you feel prepared, right?
While this might sound smart, it really isn't a good idea. You still need to get everything into suitcases and get them to the destination!
There's nothing worse than lugging around heavy suitcases only to find out that some of the contents have been damaged (or have spoiled). 
Here are some tips for making your destination welcome bags. Some of these might feel like common sense, but they're always worth mentioning! 
If you're getting tote bags, lay them down flat at the bottom of your suitcase. Folding them just takes up more space!
Keep similar items together! If you're packing travel cups, keep them all stacked until you reach your destination.
Welcome letters and anything else that's flat should go on top.
All the odd shapes (like snacks) can get tucked around everything else in the bag – they will always fit somewhere!
How To Save Some Money
If you really want to save money on your wedding, the best advice we can give is to actually not make them.
Destination welcome bags, or any welcome bags, tend to cost a lot of money when all is said and done.
It isn't a necessity, and your guests would be fine without them! It's just a nice gesture. As long as they have a schedule and itinerary, everyone will be just fine.
However, there are three things you can do to try and bring the cost of welcome bags down. Let's take a look at them below:
Avoid totes – they're a lot more expensive! Instead, get some paper bags (avoid plastic bags) at a local dollar store, or even online. To personalize them, you can get cheap but cute stickers and tags!
Get mini hangover kits – these are usually pretty cheap, and everyone who has more than one drink is probably going to be incredibly grateful for it.
Make smaller bags – this sounds obvious, but you don't need to create massive bags with a lot in them. All you need is a few small treats and a welcome letter to make everyone feel seen and appreciated!
DIY Welcome Bags
Making DIY welcome bags is super easy and fun. It might be a little more time-consuming, but it's worth it! There are some great things you can do to that will keep costs low, and still keep it fun and easy to assemble:
DIY treats and candies – bulk-buy all the best treats like trail mix, popcorn, and candies, then sort them into your own little bags. To personalize everything, get some cute bag toppers, tags, or stickers to finish them off.
DIY water bottles or tumblers – all you need to do is buy some inexpensive tumblers from your local dollar store or Amazon, and get some cute stickers to decorate them. Everyone will love them!
DIY Key card holders for rooms – just get some cheap plastic holders and wrist coils so that your guests can use them! You should keep them separate so that you can pack everything a lot easier once you arrive at your destination.
DIY hangover kits – for everyone who is going to be enjoying a rum or two, hangover kits! You can buy inexpensive bags online and fill them with a couple of hangover necessities. These can include vitamin C, pain killers, and some alkaline seltzers. They will love you forever.
More Details About Your Destination Wedding
There's more to your destination welcome bags than all the goodies inside! What about the welcome letter? The itinerary? We'll go through what you need to know down below.
The Welcome Letter
You can't forget the welcome letter. This letter should be a simple letter to thank everyone for coming.
For some of them, it might have been a very long and expensive journey, so it's nice to just show your appreciation. It doesn't have to be some super formal letter, but just nice. 
If you're able to, creating hand-written welcome letters is the best thing you can do. Sure, you could print them all out, but it doesn't feel as personal, does it?
If you hand-write your letters, they will each be a little different – unique. It also means that you can thank everyone personally for attending your big day.
If your uncle got an airplane from Australia to be at your wedding, mention it in there and thank him! It'll be something that he will cherish forever, we guarantee it. 
Once you have written your welcome letter, you will need to write out your itinerary.
Destination Wedding Itinerary
If you have a specific schedule you would like to stick to for the duration of the event, you better write it down!
Everyone will need to be able to refer back to it so that they know what to expect.
You can't expect your 98-year-old great grandmother to remember every detail, so try to make it as easy as you can for everyone's sake. 
You can write out your itinerary, or create a digital one to send out to everyone. If you feel like it, you can also send both.
When it comes to your bridal party, it would be a good idea for there to be a separate list.
Your bridesmaids and everyone else involved needs to know when to get ready, and what they are expected to do, or else it will be extremely stressful. 
Always include the day of the event, as well as the location and time – that way everyone will know where to be and when. 
Handing Out The Welcome Bags
There's a good chance that the resort you're staying at will offer to hand out all the welcome bags for you.
They might be placed in guests' rooms, or given to them when the guests check in at the counter. While this might cost a little extra, it does make life easier.
If you're planning on doing it yourself, the best time to hand out the goodies would be during the welcome party.
This is usually some kind of formal gathering, but it can be whatever you want it to be! It's your wedding, after all. 
The End
Welcome bags are a great addition to any wedding, but don't feel pressured to make them! They can cost a lot of money and take time, so no one expects them.
However, if you know that destination welcome bags are something you want to do, then you know where you can start! 
Be sure to pin this article for when you need it, and good luck!

Latest posts by Lisa Plaitt
(see all)