According to wedding experts, half of your budget should go towards your food and your venue.
But if you have a very small budget, or you just want to try your hand at a more personalized option, doing your own food and drink can be a real game-changer for prices!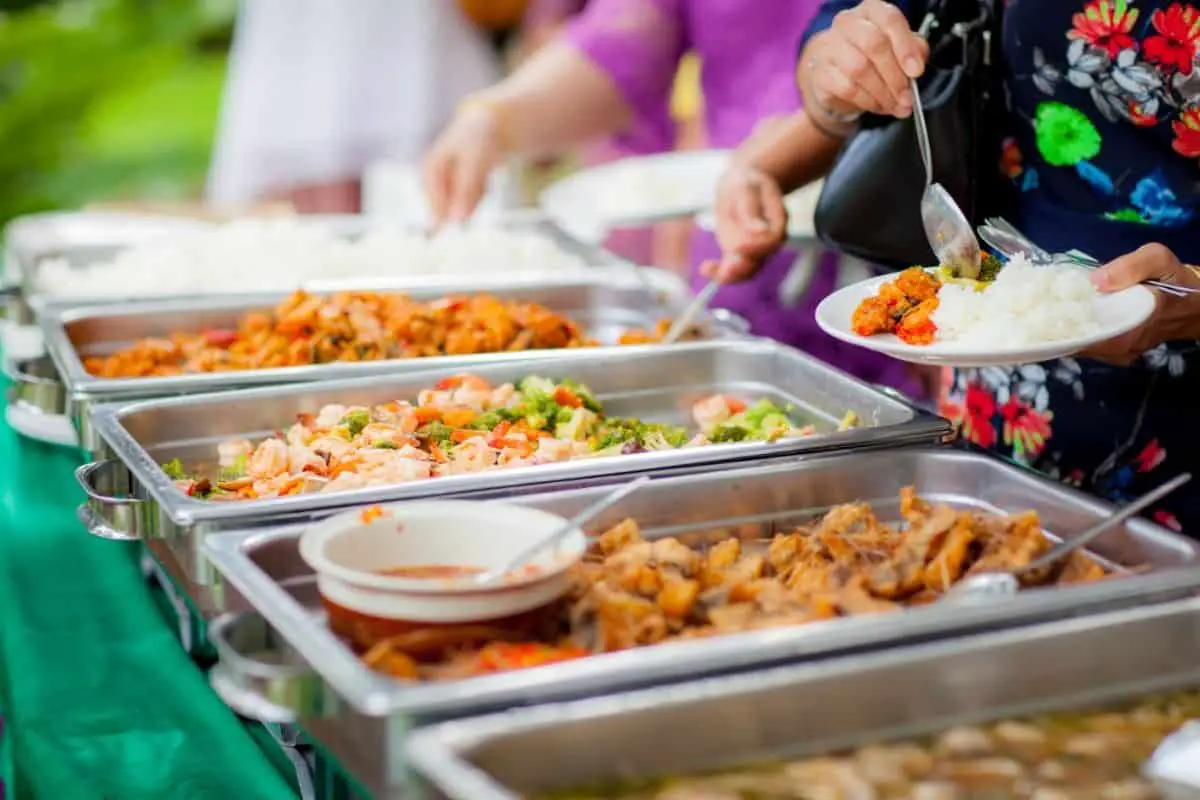 DIYing your food is the perfect way to save money without sacrificing quality. You get to choose what kind of food you want to serve, and how much you are willing to spend on it.
Plus, you don't need to hire a caterer who will charge you an arm and leg for their services.
But before you start planning your menu, there are some things that you need to know about catering and weddings in general.
DIY Vs. Catered
If you are planning a large event, like a wedding with hundreds of guests, then hiring a caterer might make sense. If you are hosting a smaller gathering, however, you may not need them.
Catering companies typically offer two types of service: full-service and self-catering.
Full-service means they provide everything from set-up to clean-up, while self-catering means you supply all of the ingredients and equipment needed to cook and serve the meal.
The main difference between the two options is price. A caterer usually costs less than $100 per person, but it depends on the size of your party.
Depending on the number of people involved, you could end up spending anywhere from $1,000-$5,000 for a single day of catering.
The advantage of having a caterer is that they do all the work for you. They take care of organizing the food, serving it, cleaning up after everyone has eaten, and even supplying any necessary decorations.
However, if you decide to go the route of self-catering, you can still enjoy many of the benefits of having caterers without the extra cost. 
You can also customize your menu to suit your tastes. And if you are short on cash, you can cut corners by skipping out on certain elements of the meal.
For instance, instead of paying for expensive hors d'oeuvres, you can opt for finger foods like mini pizzas, chicken wings, cheese balls, and potato chips.
Or, you can skip the dessert altogether and stick with coffee and tea.
Choosing What To Serve
When choosing what type of food to serve, think about your theme, the season, and the weather. 
Also, keep in mind that different regions have different preferences when it comes to food.
And, if you are allergic to nuts, you can avoid dishes containing pistachios, almonds, pecans, cashews, walnuts, hazelnuts, pine nuts, and peanuts.
If you plan to serve alcohol at your event, you should factor this into your decision as well. Many restaurants and bars charge extra for beverages served with meals.
So, if you are going to serve wine, beer, cocktails, or mixed drinks, you may want to choose a restaurant or bar where you know you will not have to pay for them.
If you are looking for inspiration, read on for more ideas!
DIY Food Wedding Ideas
Cocktail Hour
One way to save money while still enjoying the social aspect of a cocktail hour is to make it yourself.
All you need is some ice, a few bottles of good liquor, and some mixers (like tonic water). Then, invite guests to bring their favorite libations.
Set Up A Buffet Table
If you are hosting a buffet-style dinner, you can set up a temporary dining area in your backyard or patio. Guests can help themselves to whatever they want from the spread. 
Food Trucks
Another great option for a low-cost alternative to catering is hiring a local food truck. These mobile kitchens usually offer a variety of tasty treats for only around $10 per person.
Make It Yourself
Another way to save money without sacrificing quality is to make all your food.
This includes appetizers, main courses, desserts, and even centerpieces. You can easily find recipes online to help you along the way.
Make-Ahead Food For A DIY Wedding
When you are planning a wedding, it's important to remember that you don't always have to start from scratch. There are plenty of things you can prep ahead of time and freeze until needed.
For example, you might prepare chicken breasts and cook them in advance. Once cooked, you can place the pieces of chicken in individual freezer bags and pop them in the fridge or freezer until ready to thaw and reheat.
The same goes for other foods like vegetables, salads, etc. You can chop and slice your veggies and fruits and put them in containers. When you are ready to eat, just pull out what you need and heat it.
Here are a few tips when making food ahead of time:
Make sure you have enough space to store your prepared food.
Give yourself enough time to prepare things so you are not rushing.
Enlist some friends or relatives to help you out!
Make sure you follow USDA regulations for freezing and reheating food so you don't risk your guests' health!
Prepare enough for everyone, as well as extras just in case. 
Have a space prepared in your fridge for leftovers after you leave the venue.
Setting Up A Self Catered Wedding Menu
A self-catering menu will allow you to plan your event with ease. You won't be stuck worrying about whether or not there will be enough food at the reception.
Instead, you can focus on the more important aspects of the day such as spending time with your loved ones and enjoying each other's company.
Remember, you don't have to serve every single dish on your menu. You can choose which dishes you would prefer to serve and let guests decide if they want to partake.
If you are having an outdoor ceremony, you may consider serving a light meal beforehand. This allows guests to enjoy their drinks while waiting for the ceremony to begin.
Ask on your invitations what your guests would like to eat, giving a list of easy options. That way, they know what to expect, and you'll have a better idea of what to prepare in advance. 
Cold Food Buffet For A Wedding
One of the most popular ways to cater a wedding is through cold buffet catering. Cold buffets offer many benefits over hot buffets including less work, lower costs, and fewer dishes to wash.
There are two types of cold buffet catering: buffet style and plated service. In either case, you will provide all of the food and beverages for your guests.
However, the difference lies in how much effort you put into preparing the food.
Buffet style requires little preparation. All of the ingredients are mixed and served straight from the refrigerator. It's simple but doesn't require any special skills or equipment.
If you have one or two waiters or family members available to help, they can serve guests as they come to the cold buffet, plating up exactly what they want – this is great for portion control and making sure all of your guests have enough food among them!
When choosing between buffet style and plated services, make sure you pick one that fits within your budget and your needs, and the atmosphere you want for your wedding. 
Some Cold Buffet Food Ideas:
Cold roast chicken
Meat slices
Fresh bread
Olives
Cheese selection
Pasta salad
Couscous
Coleslaw
Potato salad
Fruit salad
Mixed leaf salad
Cakes
Sweet desserts
Dessert Only DIY Wedding Food
Another option is to provide dessert only. Guests can bring their cake, cookies, etc., or you can provide a selection to choose from, and then sit down to enjoy it.
This is a good choice when you want to keep the cost low and save money by skipping the caterer and the hassle of a full meal. 
You should also consider offering a dessert bar instead of a traditional dessert table. The dessert bar provides guests with choose-your-own portion sizes of sweets and treats.
They can take what they want, leaving the rest behind. This is perfect for those who love sweets but aren't keen on eating large portions of food.
It's also a great way to avoid food waste and leftover cake on everyone's plates!
You can find plenty of recipes online for delicious desserts that are easy to create. Some examples include:
Chocolate Cake
Brownies
Fairy Cakes
Pudding
Ice cream sandwiches
Sliced fruit
Sugar Cookies
Peanut butter cups
Frozen yogurt
Pretzels
Candy Bars
Cheesecake
Bear in mind that you'll need a place to keep frozen treats cold!
And, let your guests know on the wedding invitation to expect a dessert-only catering at the event so that they can eat beforehand and be prepared – this will avoid any rebuttal on the day, and everyone will know what to expect! 
Appetizer Only Wedding
Another great way of cutting costs down whilst still feeding your guests is to provide light bites and nibbles – again, let your guests know what to expect in advance so they don't expect a full wine and dine 3-course meal.
Of course, everyone will be fine with your choices, but it is polite to let guests know what to expect. 
You can provide a mix of hot and cold food, prepare it in advance and serve buffet style, or have a nibbles tray on everyone's tables to pick at as and when they'd like. 
This is also a good option if some people get a little more peckish than others, so have lots of different options.
You could even go for a 'nibbles' theme where each guest has a small plate with a variety of snacks, including cheese, nuts, olives, crisps, biscuits, crackers, etc.
Hot And Cold Buffet
A great idea is to have a themed or small selection of hot and cold side dishes, with one or two mains to pick and choose from. 
Here Are A Few Great Ideas:
Barbeque theme – BBQ ribs, sausages, burgers, salads, chips, veggies, dips, sauces, etc.
Asian Theme – Green/Red/Yellow vegetables, rice, noodles, tofu, spring rolls, sesame sticks, soy sauce, oyster sauce, chili oil, peanut sauce, hoisin sauce, ginger, garlic, etc.
Italian Theme – Pasta, pizza, breadsticks, tomato sauce, olive oil, pesto, mozzarella, parmesan, etc.
Mexican Theme – Corn tortillas, beans, salsa, guacamole, cheese, sour cream, lettuce, tomatoes, avocados, jicama, corn, black beans, pinto beans, refried beans, etc.
If you're going to offer a buffet, make sure you have enough space for all your guests to get around the table and help themselves. 
Have an appetizer station set up first, then move onto the main buffet, then you can have a separate station for desserts! That way, you won't need to be mucking about changing over stations before you get your cake! 
You can even order in the main parts of your buffet, such as a hog roast for a barbecue, fresh pizzas, or ready-made tacos or burritos to serve with your sides. This will keep costs relatively low whilst taking off some of the pressure to cook for all of your guests.
Order In From A Restaurant For Your Wedding Day
The last option is to order from a restaurant for your wedding day. Many restaurants cater for weddings and will do everything for you, including setting up the buffet, serving the food, cleaning up afterward, and providing a dessert menu.
They may charge a fee for their services, which would depend on how much work they put into preparing your food.
The cost of hiring them will vary depending on the size of your party, the number of courses you want to be served, and whether you want them to cater to vegetarians and those following special diets.
If you want to keep the effort and costs balanced out, you can set up everything yourself, have it as a self-serve affair, and buy in the restaurant food! 
This is a much more expensive option, but there are plenty of benefits to having a restaurant-ordered meal, such as being able to relax knowing that someone else is doing the hard work for you.
It's also nice to know that you don't have to worry about making sure everyone gets what they want because they've already done that for you!
Ordering Your Wedding Food For A Grocery Store
Another option is to order your food from a grocery store.
You'll find these stores everywhere now, and they usually sell a range of deli and bakery products, including cakes, pies, pastries, sandwiches, wraps, soups, pasta, salads, meats, cheeses, seafood, ice creams, chocolates, fruits, juices, wines, beers, spirits, and soft drinks.
Some of these items are pre-made, while others require assembly by the customer.
Check Your DIY Costs
It's easy to get carried away with the food, even if you are DIYing it! Bear in mind that food isn't free!
Preparation is key when you are trying to stick to a budget, so scope out lots of different shops, see where you can make cuts that don't affect the quality (do you need artisanal olives, or will regular do?) and prioritize what you want from your food whether that be quantity or quality- it's a fine balancing act!
Make sure you are factoring in the costs of storing your food, heating it if need be, and any hired help if you want it! 
DIY Wedding Bar
There are so many options available to you when planning your wedding bar. If you're looking for ideas, here are a few suggestions:
Have a cocktail hour at your reception venue – this gives you time to set up your bar, and allows people to mingle before dinner starts.
Serve beer, wine, and cocktails during your cocktail hour, then switch over to a selection of premium alcohols after dinner.
Serve beer, cider, and wine throughout the evening, then offer champagne, prosecco, and other sparkling wines later on. 
Have a champagne toast at the end of the night, followed by a signature drink.
Offer a variety of non-alcoholic beverages, such as water, soda, juice, tea, coffee, and milkshakes.
Serve snacks like chips, nuts, cheese, crackers, and fruit along with your bar.
DIY Wedding Cake
Feeling ambitious or are you a dab hand at baking? Make your cake! A wedding cake can be a huge expense, so this is guaranteed to save you money. 
Don't be scared to try a few test ones beforehand so you get it right for the big day!
You can even freeze sponge cake and ice it closer to the time to save you stressing at the last minute! 
Help!
There are a lot of things to think about when self-catering so be sure you've enlisted some help (either friends or pros) to get you set up. Here are some jobs you may not have thought about:
Getting your food there

Setting tables

Setting up your buffet

Keeping the buffet clean and stocked

Clearing away any leftovers

Cleaning tables

Washing dishes

Cleaning the kitchen afterward

Self Catering Wedding Venues
If you're thinking of self-catering your wedding, there are plenty of venues that cater for weddings, but also supply their kitchens.
They may provide all the equipment needed for you to cook your meal, including plates, glasses, cutlery, etc. but be sure to ask! Some of these venues include:
Town halls
Lions Club
Campground
Community center
Church hall
Before thinking about self-catering, double-check with your venue and make sure this is allowed, especially when serving drinks and alcohol on the premises. 
Essentials For A Self Catered Venue
When choosing a venue, it's important to know what they require from you. You'll need to decide how much space you'd like to allocate to the kitchen, and how long you would like to spend cooking and clearing up.
Also, consider the number of guests attending and whether you will be using a waiter/server or having them do everything themselves. 
Your budget should factor in the cost of hiring staff if needed, equipment, utilities, and food.
Above all else, you should be sure that your venue permits you to self-cater, and be crystal clear about what they expect in terms of clean up. 
Make sure they allow you a good time frame to clean and prepare both before and after so you're not rushing around an hour before trying to get things done! 
Final Thoughts
Have fun! Above all else, this is your day to enjoy – so prep up, enlist help and tick all of your boxes and you'll be good to go!
Let your guests know what to expect, know what your venue will allow, and enjoy your day!

Latest posts by Lisa Plaitt
(see all)