Traditional wedding reception locations come with a lot of considerations and costs.
If you have a limited budget, all the rental and catering fees, including food packages, may be discouraging you.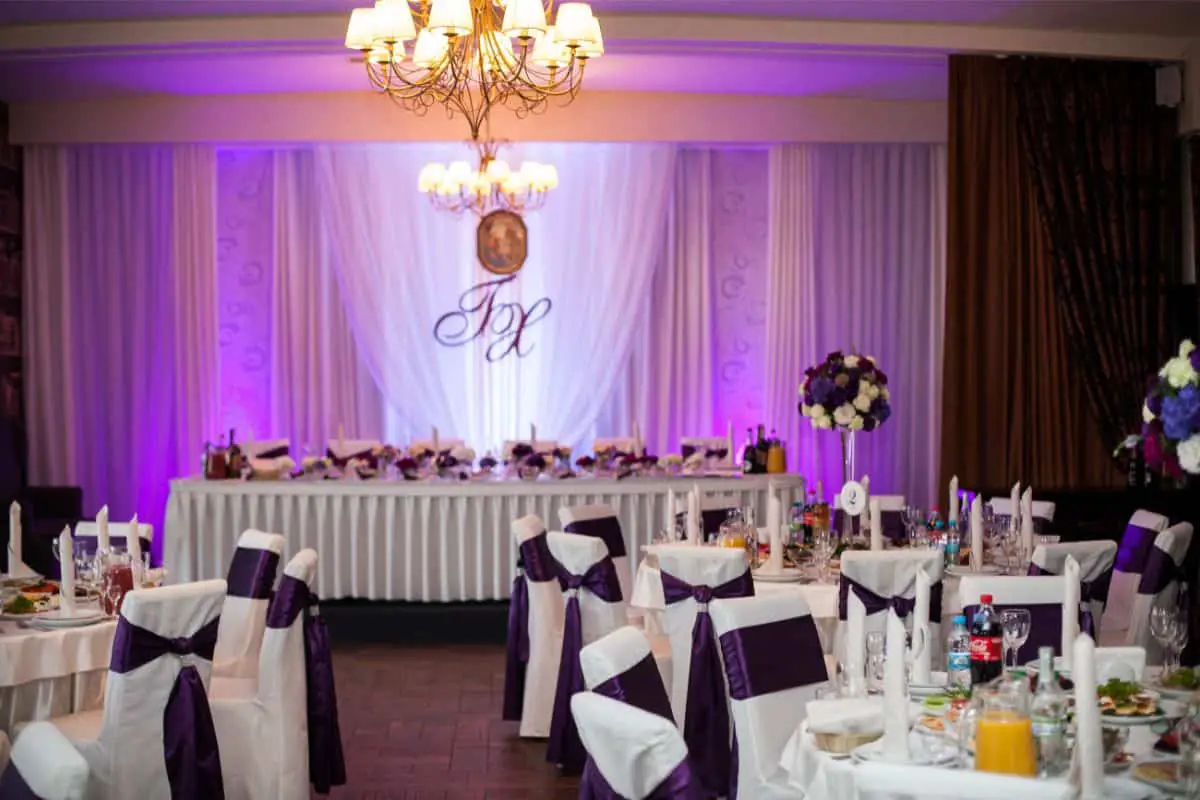 Then, once you've paid for the meal, there are still a tonne of other expenses. Such as a DJ, decorations and dance floor to name a few.
A restaurant wedding reception can be ideal for you if you'd like an easier wedding experience.
You can spend much less money if you reserve a restaurant rather than a conventional wedding location. 
You can lower your guest list, use fewer vendors, and spend less on extras.
Instead, you'll be able to greet your visitors, provide a delectable supper, and take pleasure in their presence.
In this article, we will be discussing how and why you should use a restaurant as your wedding venue or reception venue.
Advantages And Disadvantages To A Restaurant Wedding Venue
Every feature of your wedding will depend on you and your partner's personality. Thus, the advantages and disadvantages can differ from person to person.
When it comes to a restaurant as a wedding venue, you won't have room for a dance floor, for instance.
This can work in your favor if you and your partner are low-key. However, this is unquestionably a drawback if you desire a lengthy night filled with dancing.
The following are some of the popular features that come with a resultant wedding.
Planning is a lot simpler now. There is no requirement for an appointment to look at the restaurant, unlike typical venues.
You might decide to go there for supper on a date. Consider whether you like the atmosphere, the service, and the cuisine while you are eating.
At a restaurant venue, there are no setup or cleanup issues to be concerned about. The majority of hotels and ballrooms handle the setup and cleanup for weddings.
However, if you're considering less expensive reception locations, such community centers, you'll be in charge of both the setup and the cleanup. 
This could result in hours of additional work on your wedding day. You can enter a restaurant, eat your meal, and leave without a problem.
The majority of wedding customs, including throwing the bouquet and the garter, are optional.
Which is great if you don't want a really traditional wedding. 
In a restaurant, you are welcome to make a toast, but you definitely don't want to plan any 10-minute speeches.
The pastry chef at most restaurants will prepare a wedding cake for you if you decide to serve it.
Most restaurants will be content to serve a wedding cake that has been provided by a baker if they don't make one themselves.
Restaurant Venues Will Help You Save Money
You'll start making financial savings the moment you choose a restaurant as your wedding location.
You typically aren't charged a room rental fee at a restaurant. In most restaurants, if you're paying for meals and drinks, you can use the private area.
By eliminating minimal spending constraints, you'll save a lot more money.
The majority of conventional wedding venues and caterers require a minimum number of attendees to be guaranteed.
The minimums for the venues often range from 100 to 125 individuals. However, with a restaurant wedding venue, there is no minimum number of people you have to invite.
Thus, you can enjoy a more intimate wedding reception, if desired. 
The most popular piece of advice when considering ways to save money is to reduce your guest list. Yet that's not really a possibility with regular catering.
If you reduce your guests from 200 to 125, you'll save money.
However, you will still be required to pay for that minimum if you are just to invite less than 100 people.
There may be a minimum spending requirement for some restaurant wedding locations, but it's typically just for the cost of food and beverages for a smaller group of guests.
If you're just having 50 people over, then you won't have to buy 100 dinners.
You can schedule a Wednesday, Thursday, or Sunday wedding if Friday or Saturday night celebrations at your chosen restaurant are out of your price range.
Hence, you have a lot more flexibility when you have your wedding. 
Restaurants Already Have Everything You Need
You won't require a DJ or dance floor for a wedding held in a restaurant. You won't have to employ a bartender because the employees at the restaurant will handle the drinks.
Not only that, but you can reserve a brief photograph package to save money on your wedding photographer. 
Plan to have every image and photo taken both before and during the wedding ceremony.
After finishing your shots, you can unwind with your friends and savor dinner.
Additionally, you won't need to decorate. You won't need to do anything because restaurant locations already have decor, tablecloths, and napkins.
With that being said, you can still add favors, menus, or other wedding decor to customize your reception.
Nobody is going to notice if you forego the additional decorations.
How Many Guests Can You Invite To A Restaurant Wedding?
Any size wedding can be held at a restaurant, from a small gathering of 10 guests to a large gathering of 100.
Depending on the size of the restaurant and the kind of reception you're planning, you can invite a certain number of guests to your restaurant wedding. 
Banquet seating should be available if dinner is being served.
Instead of a seated dinner, you might have a standing cocktail reception if you wanted to invite more people to your wedding.
Are Restaurant Weddings Really That Cheap?
It can be much less expensive to host your reception at a restaurant rather than a traditional location.
The decisions you make when organizing your reception will affect the overall expenditures.
It can result in costing you a lot more money than a ballroom wedding if you select a high-end restaurant with higher prices and reserve a Saturday night buyout.
However, you can easily adapt to a reduced wedding budget if you select a mid-range or lower-priced establishment with a private area.
How Much Can It Cost You To Rent Out A Restaurant For Your Wedding?
A buyout is what you use when you want to reserve a whole restaurant for your wedding. For your wedding, the whole restaurant will be rented.
Though it can get quite pricey. Every table in a restaurant usually receives two or three meals each evening. 
You will only serve one meal at your wedding. You'll need to pay the eatery enough to cover the difference. 
Although, you may decide to serve two meals, yet this will increase the price dramatically. Your budget may dictate how many meals you are willing to pay for. 
The actual cost is determined by the restaurants around the area that you are looking at.
To find out their buyout prices, you can Google or phone a few restaurants to see how much they charge. It usually costs between $15,000 and $25,000.
If you have numerous guests and a bigger budget, a buyout is the best option.
Although, you can reserve a table or a private room for your group if your guest list is smaller.
As opposed to paying for the entire restaurant, you only pay for the food and drinks you consume.
How Much Money Will You End Up Spending?
The restaurant you pick and the number of guests attending will determine how much you pay. You can choose to spend $100 on meals and invite 10 people.
You might opt to only invite 50 people and provide dinners that cost $50 each. 
The best course of action is to choose your budget and then search for restaurants that fall within that range.
This is due to there being various restaurants in your chosen area that will offer you different deals within your price range.
Hence, you want to shop around to make sure you get the best option for you and your wedding party. 
Don't forget to include sales tax and tip. A 20% gratuity is typical. Depending on the state you reside in, sales tax will increase your bill by an additional 5 to 20 percent.
If we calculate a gratuity of 20% and add an average sales tax of 10%.
For example, look for meals and beverages that cost roughly $75 per person if you intend to pay $100 per person. Once tax and tip are added, the total will be approximately $100.
Example Budget For A Wedding With 25 Guests
Wedding Ceremony
Venue or Church Rental – $400
Wedding Officiant And License – $300
Rings – $300
Total – $1,000
Food And Drink
Meals/Food – $100 x 27 = $2,700
Drinks – $35 x 27 = $945
Cake – $355
Total – $4,000
Other Wedding Elements
Photographer – $1,500
Invitations – $125
Suit And Wedding Dress – $1,000 minimum
Flowers – $275
Centerpieces for Favors – $100
Total – $3,000
The grand total of a 25-person restaurant wedding comes to around $8,000.
Can A Restaurant Be Used As A Ceremony Venue?
You may well be able to have your marriage ceremony at your chosen restaurant as well. Although, this will depend on the size of the room your restaurant has.
Choose a location where the private room has ample room. Or a distinct space that is suitable for weddings, like a terrace, patio or rooftop.
However, not every restaurant will have this extra space. If your chosen restaurant does not have this space, then you can consider a nearby venue.
Such as:
Local park,
Local beach,
Wedding chapel,
Your place of worship,
Nature center.
Courthouse Or City Hall Weddings
A restaurant is the ideal location for your reception if you're getting married at your local courthouse or city hall/You must find out what time weddings are often held.
Some city halls may only host weddings during specific times of the week.
Once you've chosen the day of your wedding, you may start searching for restaurants. A lunchtime wedding is a fantastic method to save money if you have a limited budget.
The ceremony can be scheduled at 10:00 am, followed by lunch or even brunch reception for your guests.
Some courthouse nuptials prohibit groups from attending.
If yours doesn't allow guests, then you can exchange vows throughout the day and then gather with your guests for a dinner reception.
Main Factors To Look Out When A Restaurant Is Used As A Wedding Reception
There are several locations that would make wonderful wedding reception venues.
Consider what your ideal wedding day is going to be before beginning your search.
Think about your style first. What kind of reception do you want—casual, formal, or semi-formal? For your celebration, would you like an exquisite aesthetic or a rustic one?
Then, your guest list should be written down, so you can confirm the restaurant's capacity. Choose between a sit-down meal and cocktails and small plates after that.
Once you begin looking at restaurants, take notice of their dimensions and seating capacities, their design, and whether they have a ceremony area.
Choosing Your Venue
How a restaurant handles reservations is a key consideration when choosing one for your wedding.
You probably don't want to live the life of a princess for a day if you're organizing a low-key wedding. However, your wedding does merit attention and respect.
Find a restaurant that is excited to host your wedding.
Special Requests
Before making the reservation, please be sure to inquire about any particular requirements you may have.
Be sure to include all of your wedding requests in any minimum contract you sign.
Any additional fees you will be charged, such as gratuities, slicing costs, or corkage costs if you supply your own wine or wedding cake, should also be stated in the contract.
Capacity Limits And Size
When you are choosing a restaurant, you need to make sure you can answer these two questions:
Does the number of guests on your guest list match the size and capacity of the restaurant?
Do you need a separate space, or will a banquet table in the main area suffice?
The answer to these questions will give you an answer on whether that chosen restaurant is going to work for you and your wedding reception. 
Seating And Layout
Find a restaurant that has a layout that accommodates both the number of guests and the style of reception you want.
Make sure the main room has ample seating if your guest list is larger.
You don't want any of your attendees to be seated in isolated areas or other rooms.
You want to make sure that there is adequate seating for everyone who will be attending a dinner reception.
Also, it is worth seeing whether the space is suitable for mingling if you're throwing a cocktail party reception.
Space For A Ceremony
Look for a restaurant with a patio, courtyard, or rooftop space where you may hold your wedding ceremony if you don't already have a location for it.
Again, make sure that's enough space for everyone who you wish to attend and how much more rental fees that will cost you. 
Styles Of Wedding Restaurant Receptions 
You may select any style and pick a restaurant to fit it, which is one of the nice things about restaurant wedding venues.
Choose from rustic, informal, elegant, or sophisticated in your search. Every type and price range of restaurants can be found in the majority of cities.
Elegant Daytime Brunch
Consider having a brunch wedding if you desire a rich feast but lack the funds for a fancy evening. Food at brunch is significantly less expensive than evening.
The majority of guests won't also want a full bar for a daytime wedding.
A lavish breakfast that includes champagne for mimosas can be served while staying far under budget.
Dinner Party
Consider making a reservation at a classy restaurant if you're organizing a small wedding. It's simpler to afford a classy restaurant if your guest list is short.
If you're asking 100 guests to your reception, spending $100 per person might be too much.
Casual Party
Consider a unique location where your guests will enjoy themselves if you intend to invite numerous people to your reception but don't have a large budget. 
Conclusion
A restaurant is a great venue that you can use as either your ceremony space or reception space.
Alongside that, a restaurant can save you a lot of money as you need to spend much less on decoration or vendors.
In addition to that, they are the ideal option for anyone who wants a more intimate and less grand wedding reception.
We hope this article has been enjoyable, and you now understand why you should consider a restaurant as a wedding venue. 

Latest posts by Lisa Plaitt
(see all)