There's a lot more to Vegas than casinos and gambling. Sure, the city might have some interesting nicknames, but if you're planning on eloping in Las Vegas, there's a lot you can look forward to.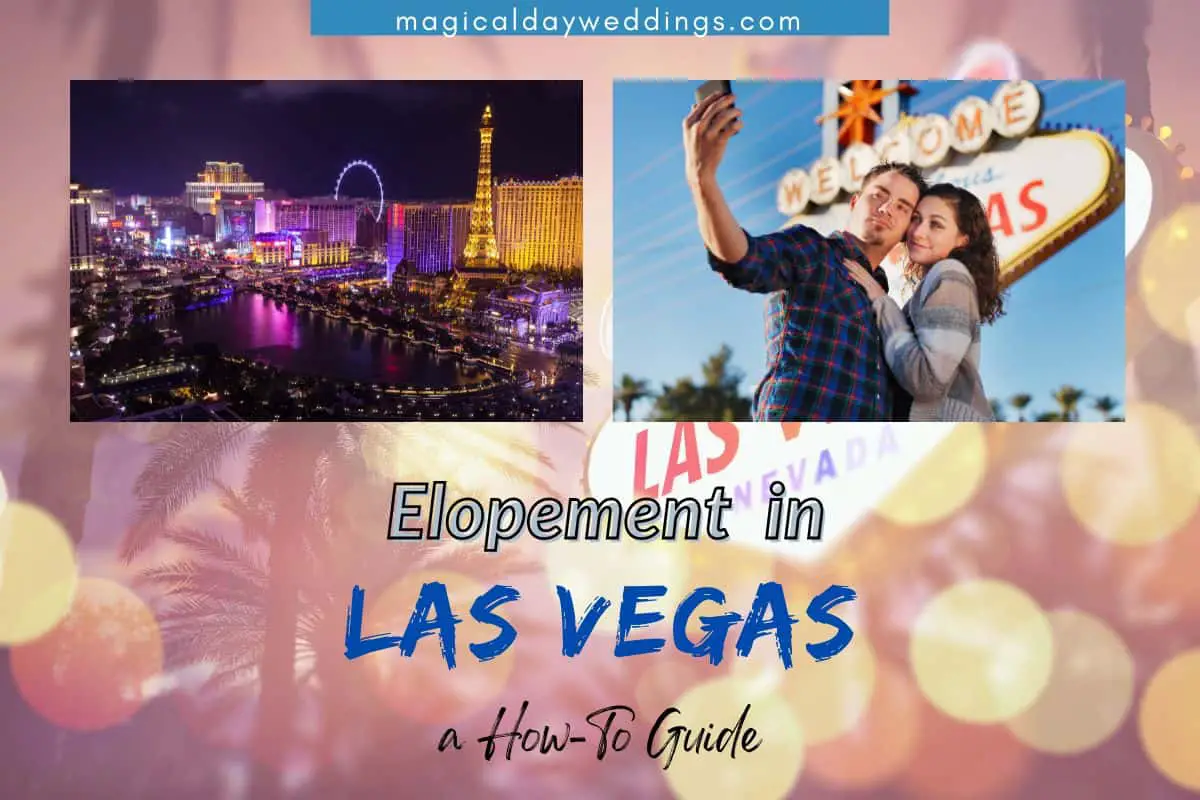 Of course, you could enjoy all the casinos and what they have to offer, but why not try something different?
From desert venues, gardens, and beautiful chapels, if you're planning on eloping in Vegas, there are plenty of options to choose from.
If you want to learn all about planning an elopement to Vegas and tying the knot, you're in the right place.
Here, we're going to be going through everything you need to know about the process.
We will also be going through some of the best locations you can pick if you want to get married in this city. Remember – there are more than just casinos to enjoy!
Why Vegas?
Vegas has attracted visitors from around the world for years. There's just something magical about all the big signs, and even bigger buildings and marvels.
The first thing you think of when you picture Vegas might be the palm trees and neon lights, but also the wonders of architecture dotted around the city.
From the Luxor Hotel's pyramid to Stratosphere Casino, Hotel and Tower, or even the Neon Museum – there's something for everyone to enjoy.
The allure of Las Vegas is simply unmatched, and it's become one of the most popular wedding locations for a reason.
Of course, there are some downsides to every place, and Vegas is not different.
However, as long as you have a plan (and stick to it), you won't lose yourself in the magic of Sin City, or the Neon Capital of the World, as we like to call it. 
How Much Does It Cost?
The cost of eloping in Vegas can vary greatly depending on where you're traveling from, and where you plan  on staying and visiting while in the city.
The wedding package and length of time you spend in the city are also two major things that factor into cost.
So, if you go with a more basic package, your adventure won't be too costly. If you have a big budget, however, things can get expensive very quickly – it is the Marriage Capital of the Word, after all! 
Below is a quick look at some things that you are probably going to have to pay for on your Vegas wedding:
Your Hotel – the cost of your hotel will vary depending on the budget you have. Thankfully, there are a range of hotels for any kind of budget in this city, so don't worry too much!
Transport – are you flying there or driving? You'll have to get there and pay for it somehow!
Elopement Package – there are loads of elopement packages to choose from, too. These will suit any budget you might have, and will have different styles so that it can be personal to you.
Marriage License – you'll have to splash out around $102 at the Clark County Clerk's Office.
Your Wedding Clothing – you will need to pay for that dress and suit! These can be very expensive, so be sure to keep some money for it.
Rings – you can't forget the rings!
Planning A Las Vegas Elopement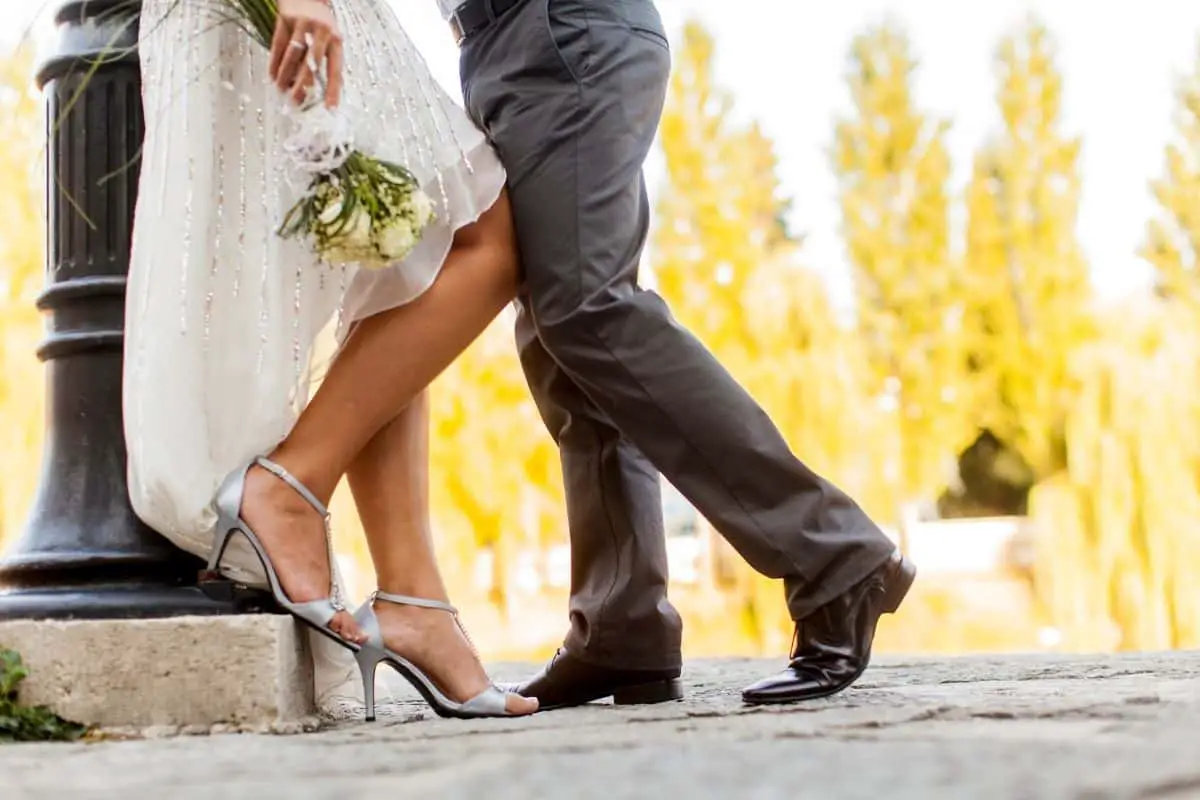 If you've ever done any normal wedding planning, you'll notice that planning an elopement isn't so much different!
While it's a lot more simple, you still need to pick a date and location, and figure out the style you want to go with.
If you're feeling fancy, you can stick to a hotel venue, if you want something a little more unique, Vegas has some great options.
You have a lot of freedom to do exactly what you want, so you can be as creative as you like.
Planning is always required, even though it isn't in as much detail as a traditional wedding. If you're thinking about planning an elopement in Vegas, stick around to see how to do it.
Pick The Date
Of course, the first thing you're going to have to do to elope in Las Vegas is decide the date you want it all to happen.
You can get your marriage license the same day you arrive, and when you pick up that license, there's no waiting period! You can get married at any point from then on.
Decide Your Budget
There's more to consider than just the hotel or venue you'll be getting married at! You still need to get there, pay for a wedding package, and all the extras like photography and clothing.
Always have a little extra tucked away somewhere, in case something is more expensive than you originally thought it would be.
Book The Elopement Wedding Package
The package you go with will depend entirely on your personal preferences and budget.
You can go with a simple but adorable chapel wedding, or something a little more extra, like a desert wedding.
The majority of the packages available come with a photographer, minister, and flowers for the couple.
Be sure to check out what your package includes, so you don't end up missing anything on the day!
Get That Hotel And Transportation Booked
As soon as your wedding date has been confirmed, you'll need to figure out how you're getting there. If you're far away, or even from another country, get those flights booked! 
Buy The Outfits
Let's not forget the clothing that you'll be wearing on the day. Your clothes are incredibly personal, and now is the time to get that dream suit or dress you've always wanted.
Make sure you style your clothes to match your venue, that way your photographs will be more incredible than you could even imagine.
Don't Forget The Rings
You can't get married without the rings! Get the rings you've always wanted, and don't lose them!
Get Your Las Vegas Marriage License
Next, you'll need to get your marriage license. Be sure to read your elopement package carefully, as some require you to pick them up ahead of time.
Other packages will give you a ride to the office to get them! Figure out which one applies to you, and act accordingly. 
To get your marriage license, you will need to:
Go to the Clark County Clerk's Office Website and apply for your marriage license online before leaving for Vegas. This needs to be done within 90 days of your elopement.
When you arrive in Las Vegas, head to the Marriage License Bureau.
When it's time to pick up your marriage license, you will need to remember to bring a couple of items. These items include:
A photo ID (government issued)
Your Social Insurance Numbers (bring your cards)
$102 to pay for it (you can pay in cash, or with your credit or debit cards)
**If you are a divorcee or widowed, you need to know the exact date, city, and state where either the divorce papers were finalized, or where the death certificate was issued.
Tie The Knot
Finally, get married! After all that planning, you can finally tie the knot and love another for the rest of your life.
Remember – when you marry someone, you're making the choice to love and be with them forever.
Feelings can be fleeting, and in the end, being together is a choice. Knowing that will help you get through all the tough times you will face together.
Eloping In Las Vegas On A Budget – The How-To Guide
If you want to get married in Vegas on a budget, you'd be surprised by how easy it is. We'll go through everything you need to do to make this dream a reality.
Tips for booking your hotel room – when you're going through pages and pages of hotel rooms, hang in there! You'd be surprised by how cheap hotel rooms can be when you get all the way to the end, or near the back. For obvious reasons, the most expensive options are usually shown first, so if you have some patience, you could get cheap hotel rooms. If you're lucky, you could actually find a room for $50 or less a night. With that being said, watch out for resort fees. Most hotels have this extra fee that you pay before you stay every night, and it can quickly add up to several hundred dollars if you aren't careful. Before deciding on a hotel room, make sure you know the total cost, or you might feel like you're getting robbed.
Buying wedding packages – consider looking at the luxury packages if you're planning on booking an all inclusive. This might sound counterproductive, but these packages often include lots of beneficial extras. These extras could include accommodation for two nights, as well as transportation from the airport and to pick up your marriage license. There could be a lot of extras, so it's worth checking them. Not only could you be saving money, but it will mean you have less to organize, and you can enjoy your time a little more.
Travel – while weekends and holidays are usually favored, they come with a steep price. Instead, try booking and traveling on weekdays. This should help keep the cost down.
Hotel rewards programs – by joining a hotel rewards program, you will get discounted prices. A great option is to join the Caesars Rewards, which can get you discounted rooms at a number of top hotels like Planet Hollywood or Caesars Palace, and so much more.
All The Best Venues For A Classic Vegas Elopement 
Now, the moment you've all been waiting for – the best venues in (and around) Las Vegas!
Please note that some of the information given below is subject to change, as the world is ever-changing.
To see if there is any additional or more up-to-date information, please check the websites for the respective locations. 
Welcome To Fabulous Las Vegas 
Does anything say "Las Vegas wedding" like tying the knot on the strip? No? We didn't think so.
If you want to have the ultimate Vegas wedding, head down to the Las Vegas Strip to exchange your vow.
This package can be pretty cheap, and includes a photographer, flowers, a minister, and a whole ceremony! 
Package starts at: $299
Get The Elvis Impersonator To Marry You, Thank You Very Much
Only fools rush in, but you're no fool, are you? If you're a lover of Elvis, why not get married by the famed Elvis impersonator at the Graceland Wedding Chapel?
The bridge will get escorted down the aisle by the man himself, and he will sing you two songs.
If you want something a little different, you can choose a special package like the Blue Hawaii themed package, which includes some special items.
Package starts at: $299
Looking For A Glamorous Event? 
If Elvis or the Las Vegas sign aren't your thing, what about some glitz and glamour? Why not get a value filled with waterfalls, gardens, or fountains?
You can check out some great casinos and spas to get the ultimate wedding day glamour.
Caesar's Palace
Caesars Palace isn't just one location – there are five options to choose from! You can tie the knot in a garden gazebo, indoor chapel, or even Las Vegas Boulevard.
If you decide to upgrade your package, you can expect to enjoy a lot of extras that will make your day truly magical.
These extras might include things like photography credits, transport from the airport, and a premium room for the wedding night.
Package starts at: $1,000
Mandalay Bay Resort And Casino
Mandalay Bay Resort and Casino has a basic Elope Package that includes six photos, a boutonniere and bouquet, as well as the ceremony.
If you decide to pay their extra fee, you will have access to some of their beautiful locations, such as the Shark Reef, or even Mandalay Beach. 
If you know that you want to bring some guests to the elopement, Mandalay Bay is the ideal location.
For a small wedding package, you can pay $950, which includes everything you could possibly need for a memorable ceremony.
The reception packages are also great, too! If you feel like cocktails, you can get the cocktail reception, which starts are $2,525 for anywhere between 10 and 20 guests. 
Package starts at: $650
Paris Las Vegas Hotel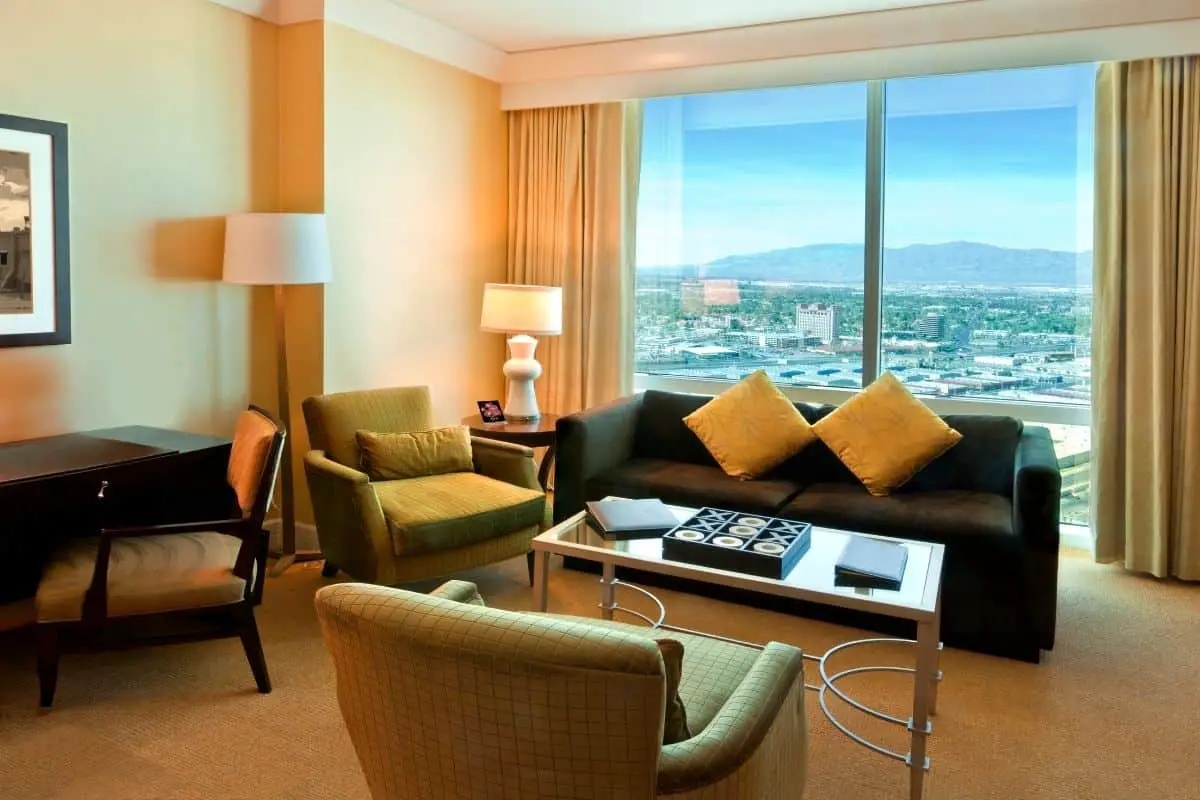 Paris might be a little far for you, but you can still experience the magic of Las Vegas' Paris! You can elope at the esteemed Paris Las Vegas Hotel for a reasonable price.
You will get photography, flowers, and so much more to make your day incredible. If you want to up the fancy, you can upgrade to the Eiffel, with the Love With You Package.
Getting married on the Eiffel Tower Viewing Deck would be an unforgettable experience, wouldn't it? 
Package starts at: $849
Wynn Las Vegas
If you want to get married in a stunning 5-star hotel with a breathtaking garden and chapel, the Wynn Las Vegas is for you!
While this option is a little more expensive than the others, it will give you a day to remember forever.
With their elopement package, you can expect to get videography and photography, a minister, a bouquet, boutonniere, a sparkling wine toast, and, of course, the ceremony. 
Package starts at: $4,000
A Unique Experience
You don't have to go with the classics or something fancy if you don't want to!
There are some other amazing opportunities and venues you could look into if you're wanting something a little more unique.
Have you ever wanted to get married on a gondola? Or on the Treasure Island Song Ship? You can. Nothing is holding you back.
A Gondola Wedding 
Get married on a gondola at the Venetian Resort! Take a ride down the Grand Canal and float under bridges while atop a magical gondola.
All you need to do is book the white wedding gondola and your whole say will be set. This signature gondola has seen many a magical day go by – why not add yours to the list?
Package starts at: $1,850
A Treasure Island Song Ship Wedding
If you love pirates and Treasure Island, getting married on the Song Ship is the only logical choice!
You can enjoy an evening or daytime package, and a pirate will swing down with your rings after you say your vows. What else could you want? 
Package starts at: $1,680
Taco Bell
Did you know that you can have a Taco Bell wedding? If you've always dreamed of walking down the aisle with a sauce packet bouquet, this is the one for you.
As one of the most affordable venues on this list, any Taco Bell lover will love this. Not to mention, you will get to enjoy some Cinnabon Delights and champagne.
Package starts at: $600
If You Want To Get Married In The Desert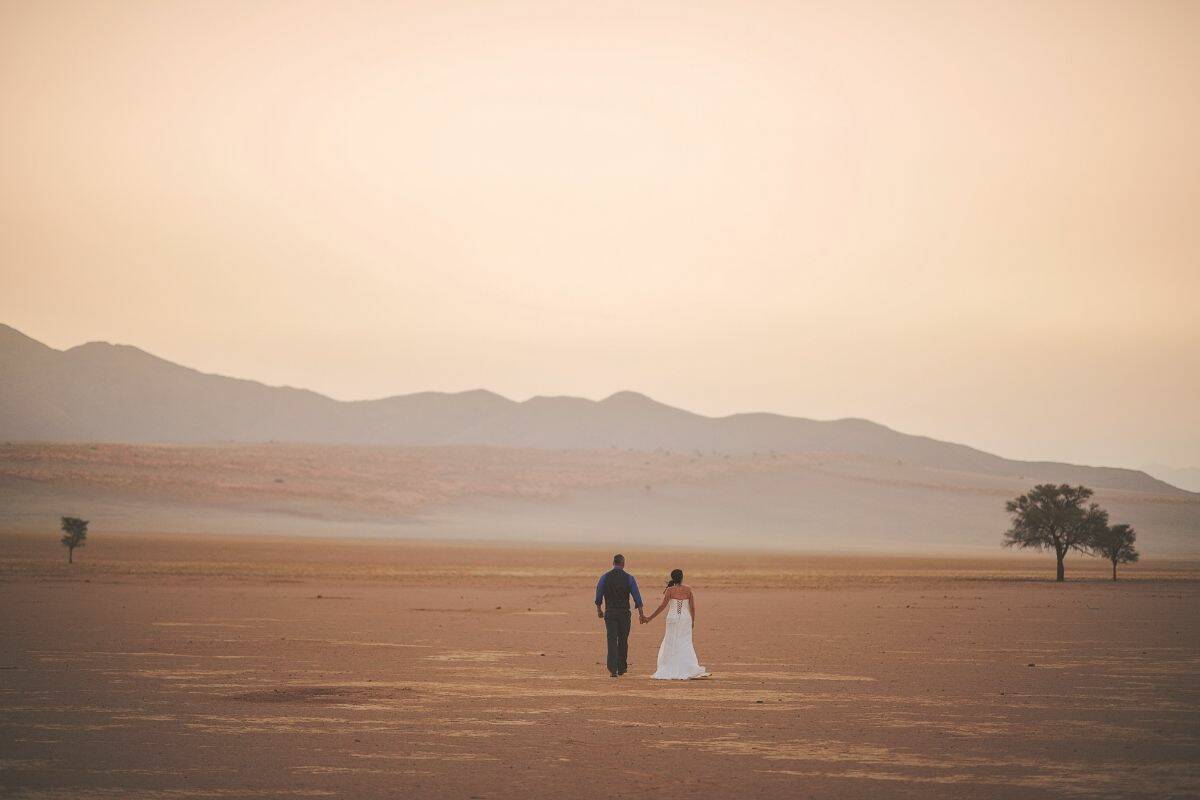 Wait, there's more! If you want to get married in the desert, check out these great locations. 
Red Rock Canyon
You'll need permits to have your wedding at Red Rock Canyon, but it's worth it. Only a 20-minute drive from the Strip, this private and romantic spot is perfect for an unforgettable wedding.
Package starts at: $899
Mojave Desert's Valley Of Fire
Again, you will need a permit for this wedding venue, but the warm-toned sandstone formation makes the perfect backdrop for your big day.
If you really want the best photographs, be sure to get a sunset elopement – an unforgettable experience.
Package starts at: $2,399
Nelson's Ghost Town – Eldorado 
Why not get married in a ghost town? You can get some incredible, rustic shots to frame forever.
You can even walk among historic movie set props and cars, including a plane crash. You even get transport as part of the package.
Package starts at: $1,999
What To Do After The Event
Enjoy Your Honeymoon
Weddings are all about celebrations. So, after all the stress of planning is over, and you have a new ring on your finger – celebrate!
Have a reception of your choice, and do whatever it is you want to do with your new spouse. A great idea would be to get some photos taken and have dinner for two with your partner. 
After that's done – it's honeymoon time! Relax at a spa, or go on a new adventure. Go wherever your heart is telling you!
Let The World Know You're Married
Finally, you get to announce to the world that you're married. It doesn't matter if the whole thing was just you and your partner – that's fine!
You don't owe anyone a wedding, or even a party. In the end, it's all about you and who you married. 
The End
Now comes the happily ever after. Only, it doesn't work like that! Marriage and loving that person is a choice, and you need to make it daily.
You will have your ups and downs, but in the end, as long as both of you choose to love one another, you can get through everything that comes your way.

Latest posts by Lisa Plaitt
(see all)