Engagement parties are a great first step to begin wedding celebrations.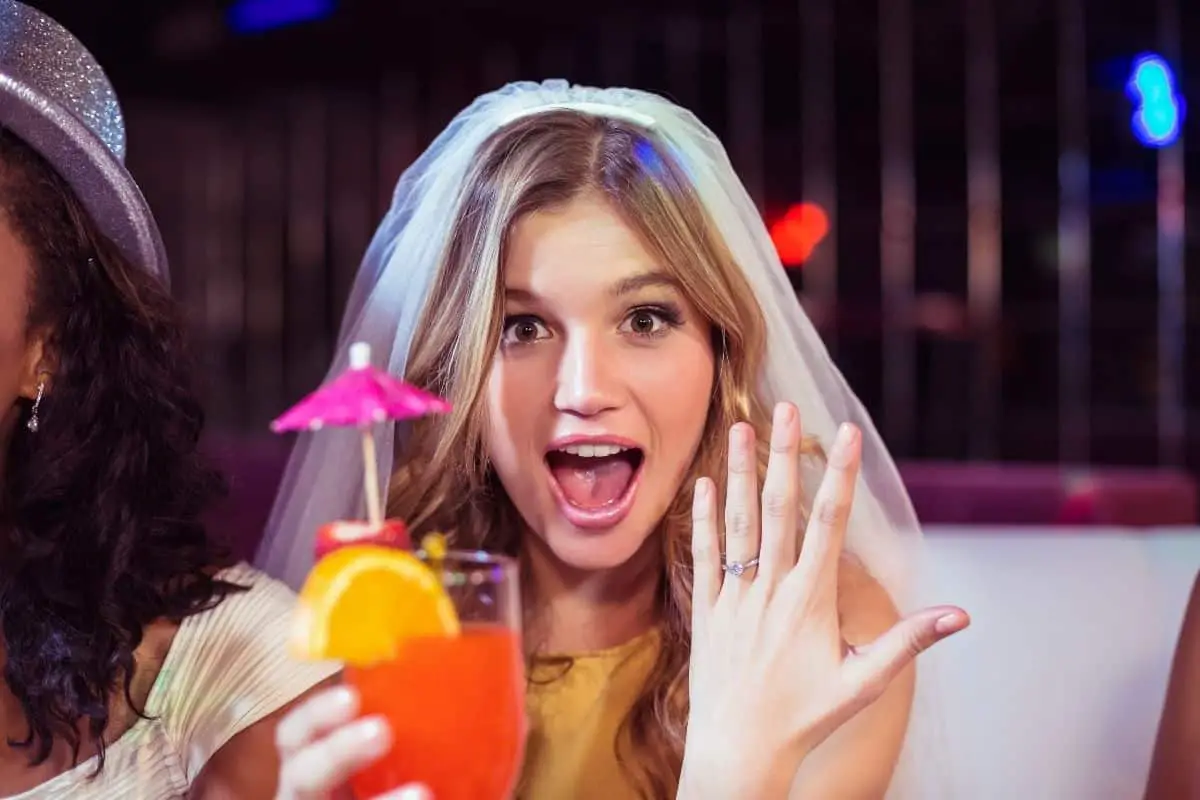 Perhaps you want a large event with lots of people in attendance, or maybe you're looking to plan something a lot smaller with only close friends and family. 
For some people, engagement parties are more important than others. Whatever you're plans are, planning can it be difficult.
What is the best theme to go with that properly represents you as a couple, what are the best activities and decorations?
If you're finding yourself overwhelmed, then don't panic! You've come to the right place.
In this article, we're going to tell you everything you'll need to know in order to plan the perfect engagement party.
We'll take you through some ideas for themes, planning tips, and how you can make it a magical evening for all those involved. 
Let's get into it!
How Do Engagement Parties Work?
First off, let's go into detail on how engagement parties work. Generally, an engagement party is the first marker of a wedding celebration.
The time between a couple getting engaged and the actual wedding, there is likely going to be a long amount of time so that you can play, rehearse, and get everything ready for the big day.
An engagement party is a way of showing your friends and family that you've made the commitment and plan to see it through. 
Engagement parties typically consist of time with friends, a toast, and then some social time. It's a time for the bride and groom to be to meet everyone and display themselves as a happy couple.
It's also a time to show off your awesome engagement ring! It also acts as the first time that you as a couple will act as hosts.
It will give you a small taste of what organizing a wedding will look like, so it's a good time to learn some of the basics of planning if you've never done it before. 
Basic Setup Ideas
So now let's get into some more specific advice about how you can plan your engagement party. One of the first things you're going to want to consider is the type of party you want.
Are you a couple that has a big family, and are going to want to create a larger, more formal kind of affair?
Or perhaps you're looking to make something smaller, with only a few guests and something more casual. 
Either way, there are a few things you'll want to consider.
Casual Engagement Parties 
Casual engagement parties tend to feature less grand displays of formality and tend to be based around something or somewhere that the couple really enjoys.
Casual engagement parties might have less than 20 guests attending, and don't require any specific dress code or schedule of events. 
But if you're planning a casual engagement party, that's not to say that you still won't have quite a lot of things to plan.
You'll still need to find a venue, to organize food and drinks, activities, and decorations for your guests.
Casual engagement parties tend to feature friends and family that are close to you as a couple.
It's a way for you to show the people you care about most during the earliest steps of your marriage. 
Formal Engagement Parties 
Formal engagement parties are for those who want something a bit larger for more guests.
The formality typically comes from the setting, the number of guests present, and protocols such as dress code and the general scheduling of an evening. 
If this is the kind of party you're looking to set up, then you're going to need to go into a lot more detail with your planning.
A venue must be booked, formal invitations must be sent out, and a detailed itinerary must be followed. You'll probably need to contact a venue and seek their help in decoration and planning. 
Which Is Better?
Which of these two versions of an engagement party is better is really down to you as a couple. You need to choose something that you will treasure and value.
Choosing between the two can depend on a variety of different factors including the funds you have available, the number of friends and family you have, and the kinds of expectations that others have around you.
Typically, we would suggest landing on something that will make you happiest.
After all, an engagement party is all to do with celebrating the bond between two people, so more than anything it should be fun and an event to remember. 
Location
So now that you have decided whether you want a smaller or larger engagement party, it's time to choose your location.
We've added a series of ideas in the sections below, hopefully, one of these will fit you well! 
Casual
Dinner At A Favorite Restaurant
This is a great chance for you to show your friends and family one of your favorite places to go out to eat. It's a casual setting and perfect for smaller parties.
You'll want to book ahead and get a small table where you can speak with everyone.
Many restaurants will accommodate your engagement party and offer additional services such as a cake for you to cut as a couple. 
Small Party At Home
If you have room to have guests over, you can have a small party at your place. This is a great way for you to make the evening exactly as you want.
You can pick everything from the theme to the food. It's also a great, intimate place for your friends and family to celebrate along with you. 
BBQ Night
If you have access to a back garden then throwing a small BBQ night with some good weather is a great, casual setting for you, your friends, and family to kick back and have a great time with one another.
Back gardens also offer countless opportunities for decorations and themes. 
Formal 
Reception
Formal receptions at a hotel or other venue can be a perfect formal way to introduce your marriage.
These can be glamorous events, providing you pick the right event and let everyone know in advance.
You'll want to coordinate with the venue heavily here, and they will likely have a lot of options to make your evening or afternoon perfect! 
Hiring Out Space At A Restaurant
This is like the more casual version above, only at a more formal location with a lot more people. Often, restaurants have private rooms where you'll be able to go together.
You could book a full three-course meal. This would be a perfect location for toasts and speeches – and great for picture opportunities!  
Cocktail Party
If you have a place large enough to accommodate everyone, you could stage a classy evening of cocktails and speeches.
This strays the line between formal and semi-formal and means you can control everything yourself without having to outsource the food and activities available to guests. 
Themes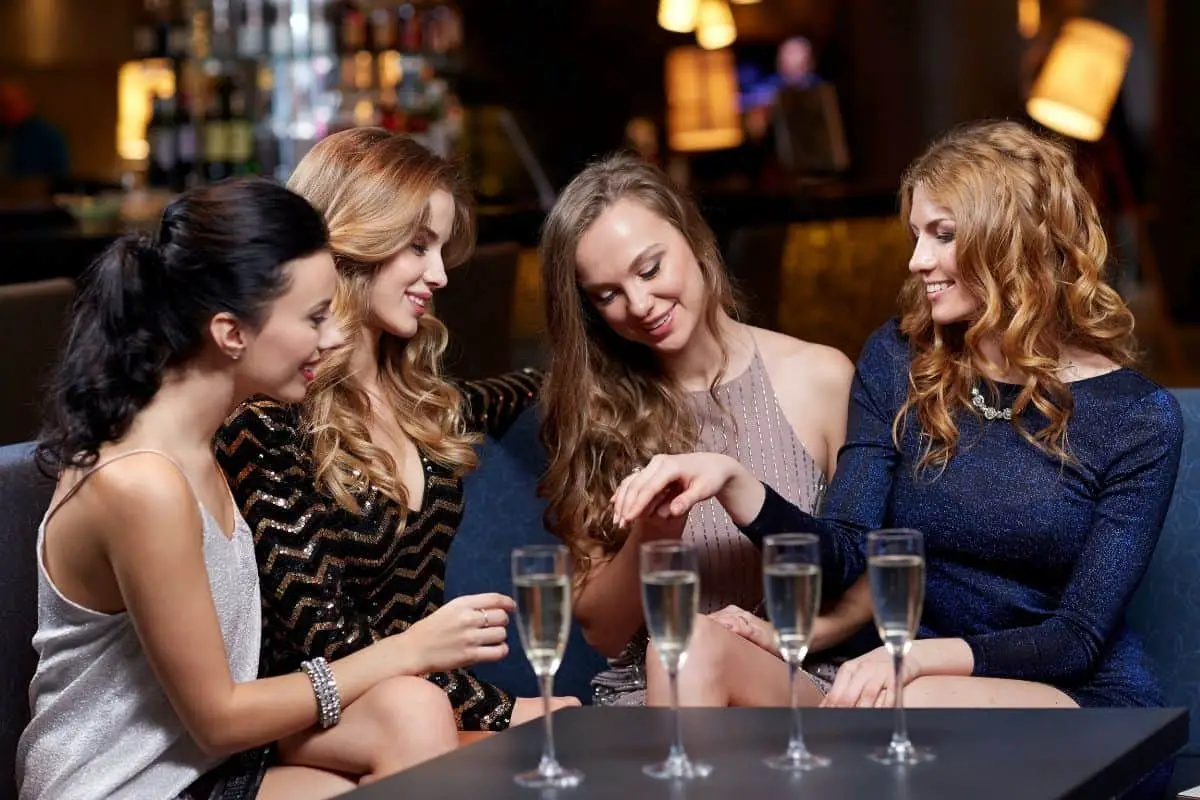 Once you've decided the size of your engagement party, as well as how casual or formal it's going to be, you can begin to decide your theme.
You don't have to decide on some crazy theme just to make yourselves stand out, it could just be a matter of how you decorate or the place you choose to go to.
If you're a couple that has a very similar, aligned interest, this is a great opportunity for you to show this to your guests.
Here are some typical themes for you to choose from:
1920s Jazz Age Party
Brunch Party
Country Theme
Fantasy Or Sci-Fi 
Fancy Dress
Formal Dinner Party
Sports Themed Party
Any of these would be great! But it's most important that you pick something you like. If you feel like a specific theme is too much hassle, don't worry! It's optional!
The most important thing about an engagement party is inviting people that you want to spend time with. 
Decorations 
Decorations are another thing to consider and should be chosen alongside the theme and location you've chosen.
If you're planning something at home, then you can go a lot further with decorations.  Decorations at home don't have to be over the top!
They can simply include some simple mood lighting, perhaps candles or pictures that show others what you are like as a couple. 
If you're planning something more elaborate at a venue, you should get into contact with them to plan decorations.
Some may offer this as part of a party package, whilst others may require you to outsource this, and some may even let you decorate yourselves.
Whatever you're planning, make sure you do so in advance.  
Budgeting 
Budgeting is one of the first things you'll want to keep in mind for your engagement party. You need to decide what you have to spend and whether or not it will be worth it.
After all, you have an entire wedding to save for – so often it's best to keep engagement parties on the low side.
Here are some of the main things you should keep in mind when budgeting for an engagement party:
Venue Costs
Food Costs
Decoration & Theme Costs
It's best to work through these methodically, exploring a variety of different options to makesure the event you're planning fits within your means. 
Activities
In this last section we're going to be taking you through some common activities and games you can stage to keep guests entertained at your engagement party. 
Casino Games 
Ring Hunt
Newly Wed Trivia Game
Memory Games
Drinking Games
A Photo Station 
These are just some ideas. You'll generally want to plan activities that fit the kind of guests you've invited.
For example, casino or drinking games probably aren't appropriate for older guests in a formal setting, but for a personal cocktail party at home they can be a great addition to the evening! 
The most important thing to remember with activities is to make things that your guests will enjoy.
If you have specific interests as a couple, it's a good thing to align your party with them, but just remember that your guests are going to have a variety of different personal interests themselves, and might not find the same things as you fun or engaging.
Generally, you want to make your engagement party a crowd pleaser! It's always good to let people know what the event will have in store – which brings us to invitations
Invitations
Finally, we would like to stress the importance of good invitations.
These don't have to be professionally printed, but it's important to let people know where the event is, what time it will be happening, whether or not to bring gifts, and how the dress code.
This will mean that your guests won't be surprised with whatever it is you have planned.
Make sure you let everyone know all the details – and there won't be any difficulties with your guests!  Explain if it's formal or casual, and tell them about the kind of things you'll be doing at the party.
Final Thoughts
So there you have it! Planning an engagement party can be a stressful experience, but with some proper planning and organization, you're sure to create a beautiful event that you and your guests will remember for years to come.
The most important thing is that you make it fun! After all, it's for you to show yourselves as a couple and spend time with friends and family!
We hope that this guide has given you some ideas for your engagement party and that you now feel a lot more confident about the whole affair.
We wish you the best of luck in your engagement and your future wedding!

Latest posts by Lisa Plaitt
(see all)