When you plan your wedding, not only are you planning for yourselves, but you are planning for the rest of your guests that will be attending the reception.
Weddings are an expensive event, and any money-saving tips and tricks are greatly appreciated by brides and grooms everywhere. 
Food is an important part of the wedding and one of the things that you and your guests will remember the most.
It can be very expensive to sort food out for your wedding, but are there any ways to make food cheaper for your wedding day?
You still want the food to be high-quality, but without the expensive price tag. 
This article will help you create a delicious-tasting menu for you and all your guests, so you can save some money and still have a beautiful day to remember.
Find out more about sample menu ideas for your wedding reception that will help you save on costs!
How To Save Money On Food At Your Reception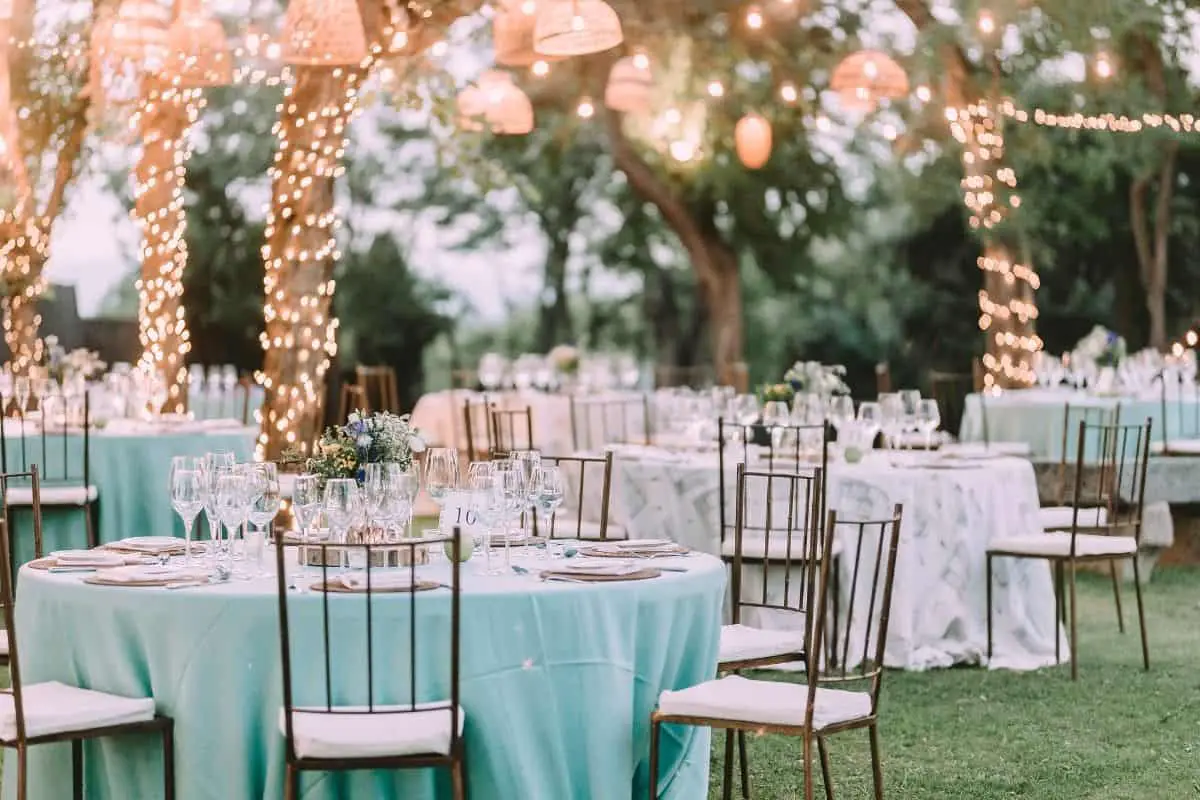 The easiest way to save some money when you are choosing the food for your reception is to have a buffet-style dinner.
Buffet food is easier to prepare, caters to all taste buds, is very easy to serve, and often includes food that is very affordable.
Buffet-style food can include whatever you want to include in it. 
If you have a theme for your wedding, you can easily incorporate the theme into your buffet.
Having a theme will make it easier to decide what food to include.
It will also make the buffet look like it has been planned very well as it will be very detailed.
There are so many options for a buffet-style menu, and, if you plan ahead, you won't have to break the bank. 
What Style Of Buffet Shall I Do?
There are so many styles of buffets to have at your wedding reception, you just need to choose the one that fits in well with your theme.
If you are struggling with ideas on how to make your wedding buffet cheap but high-quality, then you can find some ideas below. 
It is important to make sure that the buffet theme fits in with your wedding theme as this will make your buffet look incredibly well planned.
Find out more below about different wedding buffet ideas!
Barbecue Buffet
Barbecue reception buffets are very common, especially for those who have decided to have their wedding outdoors or with a rustic theme in a barn.
Everyone loves barbecue food, so having a barbecue buffet is perfect for feeding hungry guests and catering to everyone's taste buds and preferences.
It isn't expensive and will definitely taste good. 
There are lots of different barbecue menus to choose from, and you can cater the menu to fit your budget.
You can have a classic barbecue buffet with hot dogs and burgers, or you can add extras like kebabs and chicken to the menu if you want a wider range.
You will also need to make sure that you cater to vegetarians and vegans, so vegan options are important to add.
If you have a wider budget for the barbecue, you can even look at getting shrimp, salmon, and even steak to feed your guests.
As a lot of side dishes for barbecues can be made in advance and by yourselves, you may find that you can get a lot more out of your budget with this style of a buffet as you can make dishes yourself. 
When making dishes to go with the buffet, you can include foods like grilled vegetables, corn on the cob, potato salad, coleslaw, pasta salad, and so many others.
If your guests are nice enough, they may even be able to contribute to dishes too!
Barbecue buffets are a great way to save money and provide delicious food that everyone loves. 
Pasta Buffet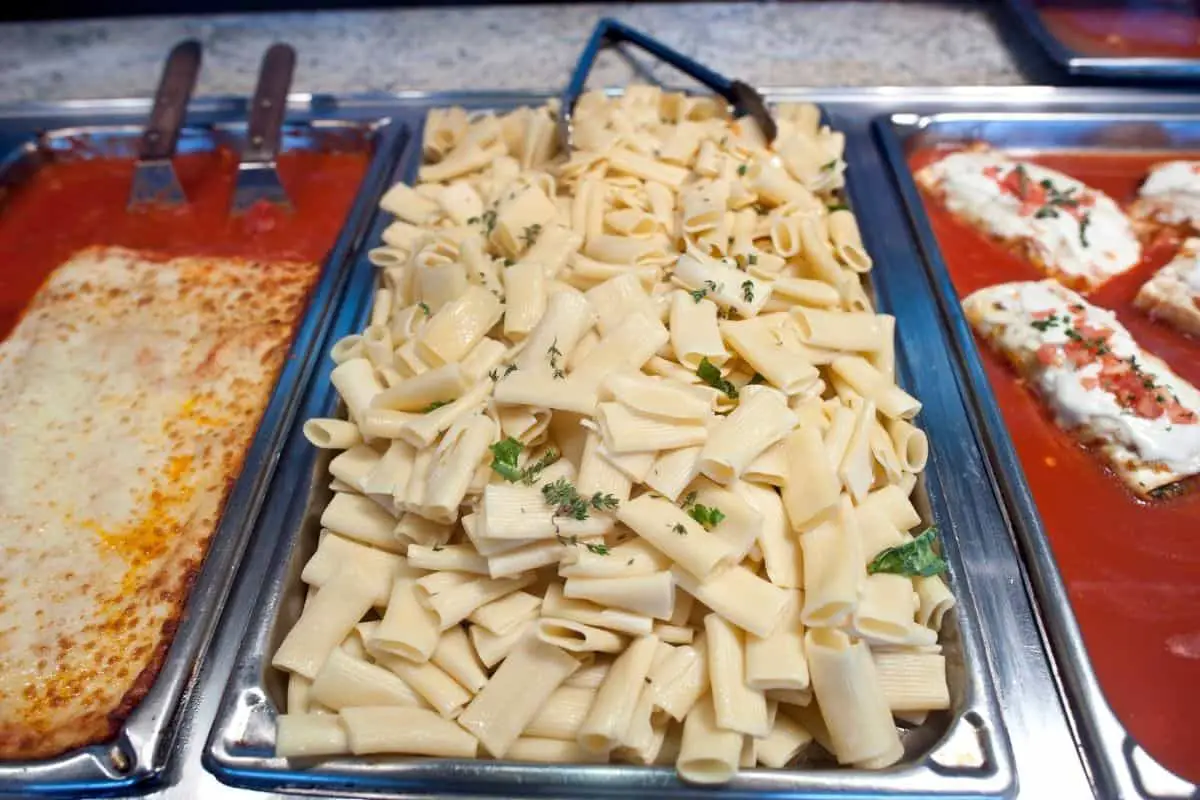 Pasta is a beloved food for all of us, and what better way to showcase this beautiful food is by having a pasta station as your reception buffet?
A pasta buffet can suit everyone's dietary requirements, and is delicious and filling for those hungry guests.
You can have a wide selection at a pasta buffet too!
Depending on your budget, you can begin with giving guests the option of what pasta they want to have.
Linguine, penne, and spaghetti are popular pasta varieties that can be used in a wide range of pasta dishes.
You need to make sure that you have pasta that is suitable for vegans that do not contain eggs. 
You can then build your buffet to have different sauces, meats, and vegetables for your guests to choose from.
Chicken, meatballs, sausage, and shrimp are popular meats to be used in pasta.
Mushrooms, spinach, broccoli, tomatoes, and peppers are ideal vegetables to accompany the dish as well.
Popular sauces like Alfredo, pesto, and marinara will help you to stay on budget, but create delicious meals for your reception. 
If you are worried that the pasta buffet will not be filling enough, you can also have soup with bread rolls to start and a salad bar for guests to add to their meal.
You can also incorporate different sides if you have money left over from your budget.
The pasta buffet will be delicious, easy to serve, and popular with all of your guests!
Thanksgiving Buffet
Having a wedding in the fall can be beautiful in photos, but if your guests are expecting hot meals after a chilly day, what do you do on a budget?
Thanksgiving food is some of the best food that we can enjoy all year, so why not have a Thanksgiving buffet that fits into your fall theme and comforts all of your guests? 
You can have classic Thanksgiving dishes as part of your Thanksgiving wedding buffet such as sweet potatoes, mashed potatoes, green bean casseroles, and roast turkey.
These are all foods that are associated with this delicious time of year.
You can choose a variety of vegetables to include as part of your buffet to make sure that your hungry guests are satisfied after their meal. 
If you have money left over from your food budget, you can choose a wedding cake that fits in nicely with your wedding theme and complete the Thanksgiving-themed buffet.
You can even serve pumpkin pie to further add the theme of fall to your wedding and transport the guests to comfort with incredible food!
For a fall wedding, having a hot meal is comforting for guests, and having a Thanksgiving-themed buffet can provide your guests with a warm meal that will be very homely and comforting for them.
It is a great way to bring all of your family and friends together on your wedding day with a perfect buffet on your perfect day. 
Traditional Wedding Buffet
You might be dreaming of a traditional wedding day, but you may be concerned that your budget cannot stretch to your dream wedding meal.
If that is the case, then there is no reason for you not to have a traditional wedding dinner as you can have one for a cheaper price in the form of a buffet. 
To start your buffet, you want to make sure that you include all the components of the meal that you love, like roast chicken, roast beef, roast potatoes, and a variety of vegetables.
You can give your guests a choice of meats, fish, and vegetables to make sure that they are happy with their meals.
You can also get vegetarian and vegan alternatives for your guests in the form of vegan meats or pies. 
Furthermore, you can also choose a wedding cake that fits in with your budget to add the final finishing touch to your traditional wedding dinner.
A simple fruit cake would fit perfectly with your wedding theme and would be an excellent addition to any traditional wedding menu.
Your guests will love coming to your reception and eating a traditional wedding meal, and it will help them feel very comfortable at your wedding.
People think that having a traditional wedding dinner has to be very expensive for it to be high-quality, but you can create a beautiful traditional buffet that fits in with your budget.
You can give your guests a choice and have your dream wedding meal that isn't overly expensive. 
Taco Or Fajita Buffet
Allowing your guests to serve themselves at weddings means that they can choose exactly what they want to eat.
It also gives everyone at the reception a chance to talk and get to know each other.
Including food that everyone will enjoy is important, and having a taco or fajita buffet gives your guests the opportunity to eat delicious food that is easy to prepare. 
For the buffet, you would need to start with tortillas or taco shells, and then add a variety of fillings like beef, chicken, refried beans, vegan meats, and nachos to make sure that there is something for everyone.
You can then work on supplying salad fillings like lettuce, tomatoes, peppers, onions, cheese, and cilantro. 
Sauces are important to add to tacos and fajitas, so having the right ones is important for satisfying your guests.
You will need sour cream, guacamole, and salsa for the fillings that will most certainly have all of your guests feeling happy and full from their delicious handmade tacos and fajitas.
Tacos and fajitas are familiar favorites that are guaranteed to go down a storm at your reception buffet. Guests can choose their own fillings and toppings to make sure that their food is just how they want it. 
Brunch Buffet
If you are looking to serve brunch at your wedding, you can easily make the brunch a buffet to make it more affordable for you to serve to your guests.
You can serve all the traditional brunch food and let your guests choose exactly what they want to eat. 
You can include classic brunch components like pancakes, French toast, and waffles, as well as savory foods like sausage, hash browns, eggs, biscuits, bacon, and ham.
Likewise, you can also include assorted pastries to give your guests a variety of options to help fill them up for the day. 
As well as traditional brunch food, you can also include platters of different fruits, and serve a variety of teas, coffee, and fruit juices.
This will give your guests the opportunity to build their own brunches and choose exactly what they want to eat without going over your budget. 
Final Thoughts
To conclude, there are lots of different buffet ideas for your wedding reception that allows you to serve your guests a delicious, high-quality meal without going over budget.
You can cater the buffet to fit with your wedding theme to make the buffet look well planned and contain the perfect foods to fit in with the rest of your wedding.

Latest posts by Lisa Plaitt
(see all)