Whether you are planning a classy or a casual BBQ for your wedding party, a BBQ after the main ceremony is a great way to feed your guests, especially at a summer wedding.
It serves up some delicious food, it's filling and it's a fun way of eating at the reception.
You can choose a BBQ according to your budget or the style of the wedding and since BBQ food is so affordable, it could make those caterers a little cheaper.
If you have a smaller budget, you can order a BBQ from a local restaurant and semi-DIY the BBQ,
If you are on a very tight budget, you could even buy all the ingredients yourself and completely DIY it.
You can make all the side dishes and have family and friends to help and on the wedding day, we're sure you'll have plenty of people to help out at the grill. 
In this article, we are going to talk through everything BBQ-related at your wedding and help you out when deciding if it's the right type of food to serve at the reception of your big day. Let's jump in!
Is It Tacky To Have A BBQ At Your Wedding?
Not at all! Having a BBQ at your wedding is in no way tacky and if anyone thinks anything otherwise, remind them it is your day, not theirs!
After all, all you need to remember is to feed your guests a filling meal that fits into the flow of the day, and you have covered the wedding etiquette.
You will need to make sure all guests are catered for and the meal suits the style of wedding you are planning.
A fun and laid-back wedding at home or in the community is a perfect atmosphere to serve up some hotdogs and burgers from the BBQ. 
That being said, if you are planning an elegant and classy style wedding that is slightly more formal, and you have asked your guests to turn up in their best dress, they might be expecting a fancy sit-down meal and they might be surprised or taken aback if you start telling them they are going to be eating with their fingers.
This means if you are having a formal wedding, think twice about how you are going to incorporate a BBQ into the reception.
How Should I Serve A BBQ At A Formal Wedding?
If you are having a formal wedding but have decided on a BBQ as the food option, you might be wondering how to keep things elegant.
A formal wedding is more expensive and so you will need to check your budget and see how you can serve a BBQ as a plated meal. Elegant decorations also help!
Menus
If you are keeping your wedding as elegant as can be, you do not want to be serving cookout food. If you want a formal event, you cannot have people trying to eat with their fingers.
However, to solve this problem, just still to traditional BBQ foods to eat with a knife and fork such as grilled chicken or brisket. You can serve sides such as salad or baked potatoes too.
Formal Decor
You can also keep it classy with the decor. You will need to choose all-white linens to keep it a formal look and you should ensure all the centerpieces match too.
Choose the most elegant glassware with white or cream flowers and make sure your table decorations match.
If you do not find a venue that serves real china, you can ask your caterer if they can or look into hiring a rental company.
If you are going for a formal wedding, you will need to have china dishes and flatware. 
How Should I Serve A BBQ At A Casual Wedding?
As we have mentioned, serving a BBQ at a casual wedding is an easy, delicious, and perfectly suited way of feeding your guests after the ceremony.
It's fun, budget-friendly, and means you can serve a full meal for a small price.
Menus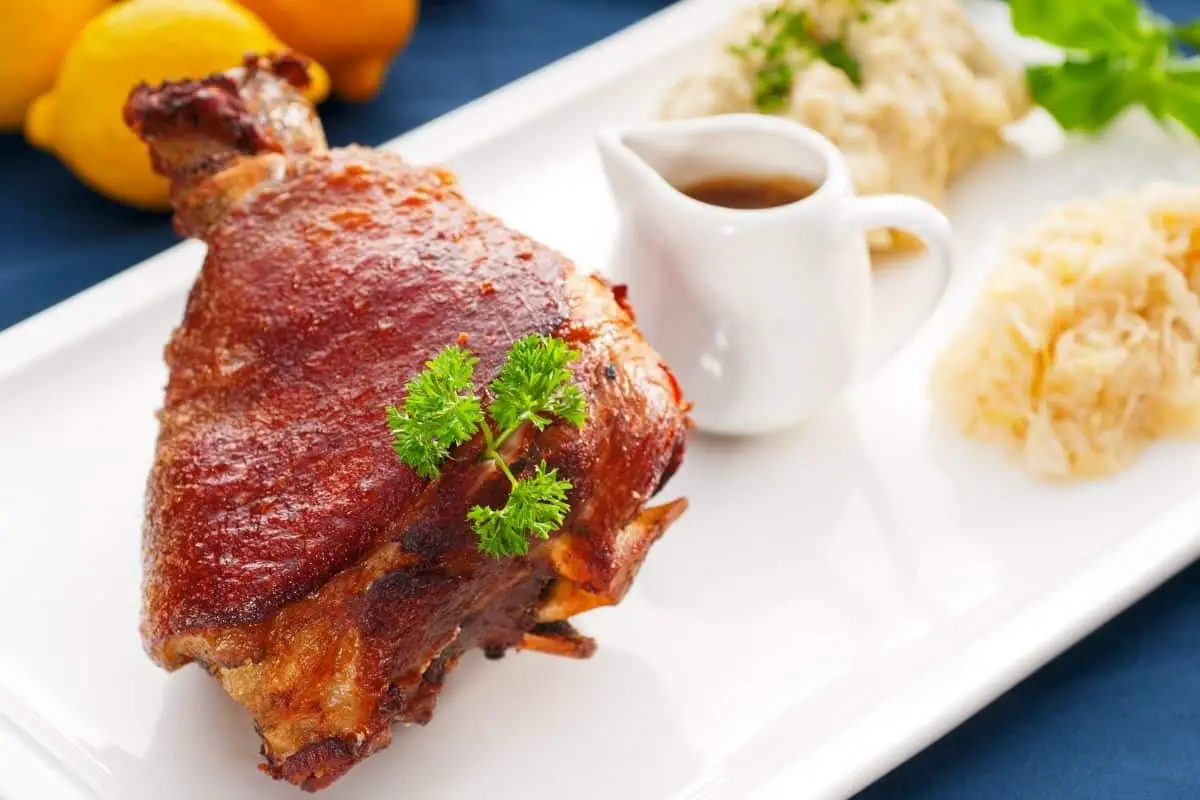 When it comes to the menu for casual weddings, you will need to make sure it is enough for every guest to eat.
You should serve the best food you can afford on your budget and this means if you have a large budget, you can maybe even order from a special restaurant specializing in BBQ food or hire a caterer.
With this, you can serve up what you like such as smoked brisket, pulled pork, hog roast, and side dishes such as beans and corn.
However, for a smaller budget, you can plan a cookout menu and put together a burger and hotdog bar with condiments, sides, and toppings. 
Casual Decor
For a casual wedding, you still need to make the room look pretty. You can choose glassware, candles, lanterns, or other knick-knacks at any thrift shop or craft store and these will not break the bank.
If you mismatch your items, this can still look fun and quirky and if you need to provide the dishes too, don't be afraid to use disposable pieces at a casual wedding.
If you are having a cookout, you do not need the full table setup, but you need enough for all the guests to be able to sit down.
If you are having a buffet, you should have tables and chairs for every guest to sit down and eat.
How Should I Serve A BBQ At A Semi-Formal Wedding?
Semi-formal weddings are the best of both worlds. You can mix and match as you please, and focus on elements you want giving more of the budget to them than others.
It will cost a little more than a casual wedding, but less than a formal wedding. 
Menus
When it comes to the menu, you might want to choose a buffet for a semi-formal wedding and choose a menu that suits your budget best.
Catering is the easiest choice if your budget allows and this means you simply choose what food and drink you want, the caterers do all the rest.
If you are looking to save money or you want more options and flexibility, you could order from a BBQ restaurant.
In the buffet, you could serve BBQ items such as steal, ribs, smoked brisket, and chicken, and you can always stock up on sides and rolls too for the guests to fill up as they please. Don't forget the BBQ sauce!
Semi-Formal Decor
A semi-formal wedding can be hosted in pretty much any location. It can be a traditional wedding hall, a barn, or outside, but wherever you choose to host, you should ensure your decor matched your venue.
If your venue does include dishes, use these but if not, hire some china or use disposables.
However, just make sure you have hired enough tables and enough chairs for all guests to sit down and enjoy their meal, and add on your centerpieces, decorations, and linens.
BBQ Buffet Ideas
The fabulous thing about buffets is that you can serve absolutely anything you fancy! As long as your guests are filled up and satisfied.
Examples of food included in a buffet are often grilled chicken, steak, ribs, roasted pig, corn on the cob, pulled pork, smoked brisket, baked beans, coleslaw, baked potatoes, garden salad, kebab sticks, potato salad, couscous salads, rolls and butter and of course BBQ sauce.
Cookout Style
But what about if your BBQ is a cookout style?
You can serve up similar types of food but it doesn't have to be aimed at a sit-down meal. Ideas for cookout food are burgers, sausages, hot dogs, corn on the cob, potato salad and baked potatoes, pasta salad, all the toppings and any condiments, coleslaw, and garden salad.
The Budget And Catering
If you are on a smaller budget, or you are trying to save up some money, a BBQ is a great way of serving food at your wedding.
The catering cost will vary depending on factors such as location and what time of year you are planning your wedding.
Some seasons will cost you a lot more. Your costs will also depend on the food type and the menu you want to put together.
3 Catering Food Services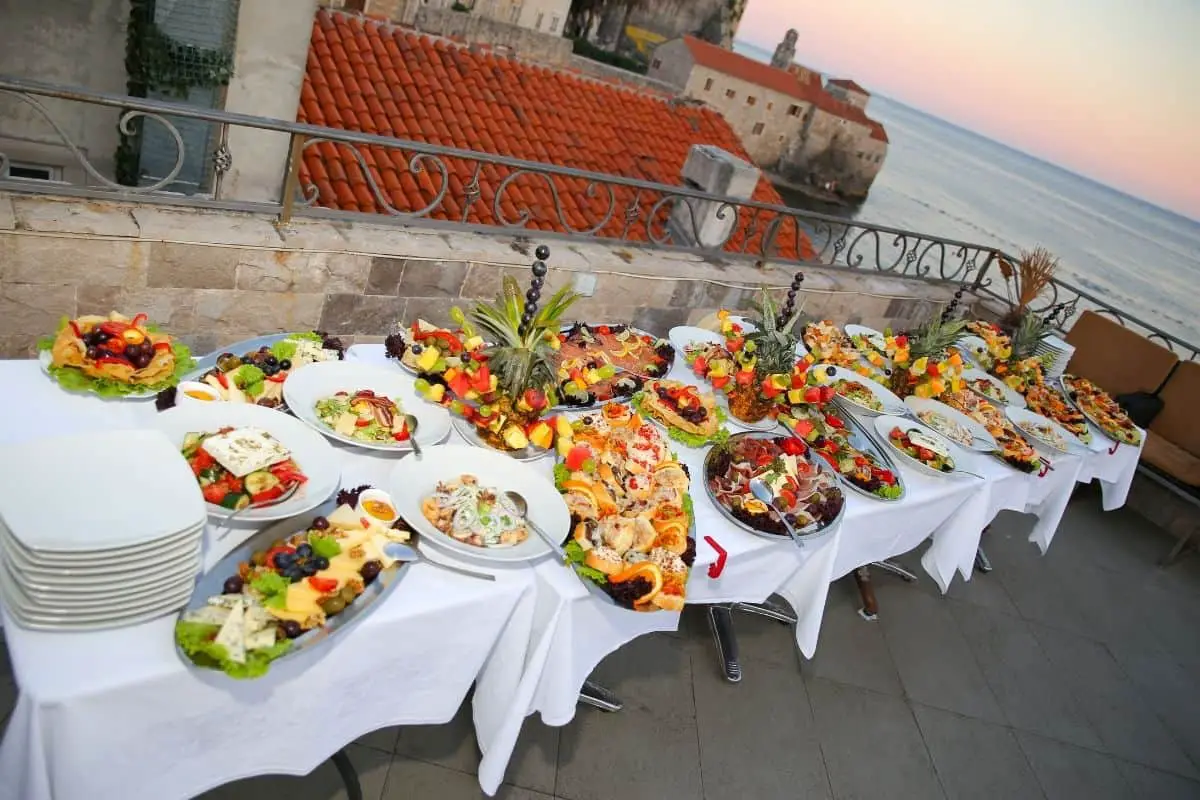 Most caterers will offer a different type of foodservice. If you want a plated meal, this will cost you the most, as every guest will have a meal served to them on individual plates.
If you are going family-style, this is the middle of the road in terms of price and every dish will be served to the table on platters.
Buffet style is the cheapest and the food will be served at one table where guests can help themselves and go back to the table to sit and eat.
Hiring a caterer pays for more than just the food and so if you decide to DIY it, make sure you have enough people around to cover all tasks.
Caterers will also provide servers and bartenders, set up tables, linens, and dishes, stock the bar, serve food and drink, keep the buffet clean and stocked, cut and serve the wedding cake, clear the tables and clean the kitchen.
Saving Money With Caterers
If you are looking for ways to cut the cost, you could:
Opt for a cheaper menu
Stick with a buffet service
Offer a limited instead of free bar
If Saturday is too expensive, have your wedding on another day
Host your wedding during the off-season and venues and catering will be cheaper
Choosing A Venue For Your BBQ
If you are planning a cookout, you will need to be outside such as at the beach or a state park.
However, for more formal and semi-formal weddings, look at venues such as banquet or city halls or check listings of different venues in the area such as hotel ballrooms, church halls, community centers, cabins, cottages, barns, ranches, nature reserves, campgrounds and more.
Backyard BBQ
If you're on a tight budget, why not plan your wedding in your backyard if it's possible! You will cut out rental fees and be free to do all the DIY you want. You can also hire vendors to fit the budget. 
When planning, make sure your backyard can fit all the guests and where the reception will happen.
You might want to consider whether you will have a dancefloor and where everyone will sit down to eat too. 
BBQ Wedding Themes
So you've chosen your venue, now it's time for the theme.
You can use the BBQ as the whole wedding scene by adding rustic decorations, wildflowers, and BBQ accessories, but you might want a separate theme such as daisies, sunflowers, rustic, campground, country, boho, 4th of July, summer, or another personal choice! Remember to be creative!
Final Thoughts
We hope you have enjoyed this article on how to plan a BBQ for your big day.
Whether you are having a formal, semi-formal, or casual wedding, a BBQ is a perfect way to celebrate the occasion and gather everyone around for a fulfilling, memorable and tasty meal.
It is also a fun way of serving food and you can pair your theme to match!

Latest posts by Lisa Plaitt
(see all)